Scary-Go-Round :
September 07, 2008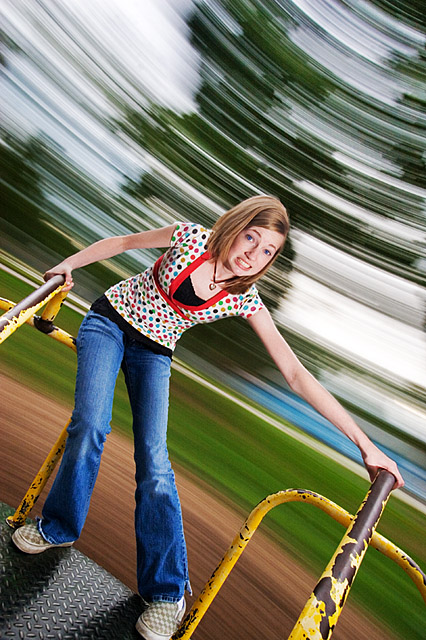 Image Data
File Name: 20D_54300
Model: Canon EOS 20D
Lens: Canon EF-S 10-22mm F/3.5-4.5 USM
Date: 09.06.08 6:48pm
Focal Length: 13mm (21mm)
Shutter: 1/4 s
F-Stop: F16
ISO: 200
Program: Manual
Metering Mode: Evaluative
Flash: Off
Focus Mode: Manual focus
Thanks all for the MGR location suggestions I received after asking last week! Found two while up in FD yesterday. My sister, Jwen, was kind enough to oblige and be my model, so I could execute the first of my MGR photo ideas. She was almost killed (as you can tell from the look on her face), but in the end, I think she had fun. She didn't lose her cookies, anyway. Lost cookies, never a good thing. Where would we have found more? Who would have paid for them?
More photos from this shoot »
Stay tuned, I'm sure there will be more MGR shots to come.
Comments (0)
Colin 09.06.08 11:21pm
All that effort to find a merry-go-round and you find two in your home town. *tsk* *tsk*
---
jwen 09.07.08 2:03pm
i'm definitely gonna be a cool kid now!
---
Mark 09.08.08 6:43am
I really like 20D_54293 in your series... good shoot altogether!
---
Alyssa Schultz 09.08.08 11:02am
Told you there was one at Hydro-electic park :)
---
ami 08.11.09 9:30pm
Blue Ribbon Pic! woo!!!
---
Leave a Comment