Heads :
November 25, 2008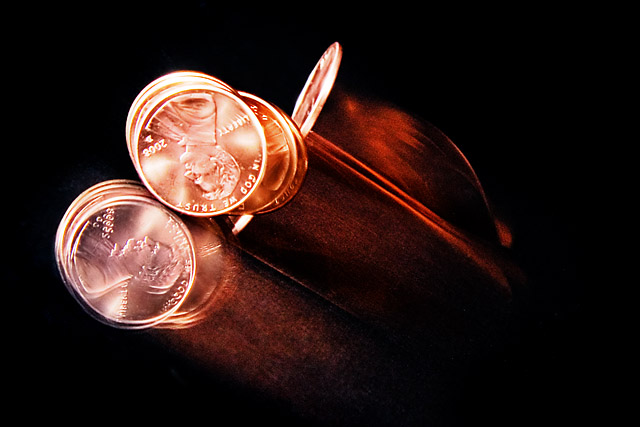 Image Data
File Name: 20D_68847
Model: Canon EOS 20D
Date: 11.25.08 12:53am
Focal Length: 59mm (94mm)
Shutter: 1/10 s
F-Stop: F11
ISO: 400
Program: Manual
Metering: Multi-segment
The physical handling and counting of pennies creates transaction costs that may be higher than a penny for every penny spent. Furthermore, as has been claimed for micropayments, due to mental transaction costs one penny may exceed the useful price granularity of almost all products and services sold over the counterógranularities of five or ten pence may be sufficient. Also, inflation periodically causes the metal value of pennies to exceed their face value, making them wasteful to mint. Several nations have stopped minting equivalent value coins, and efforts have been made to end the routine use of pennies in several countries, including Canada and the United States.
Comments (0)
Mark 11.25.08 8:19am
Interesting factoid: Of all of the US coins currently in circulation, the penny has the least percentage of copper: nickel- 75%, dime, quarter, half dollar- 91.67%, Susan B Anthony dollar- 87.5%, Golden dollar- 88.5%, penny-2.5%! (97.5% zinc)
---
Leave a Comment