Foxy Squirrel :
January 31, 2008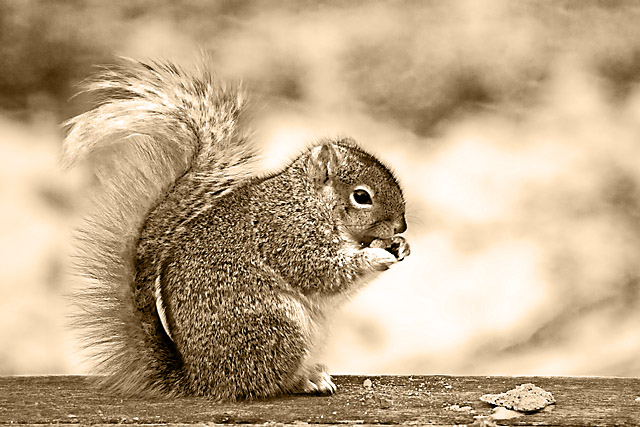 Image Data
File Name: 20D_14408
Model: Canon EOS 20D
Lens: Canon EF 75-300mm F/4-5.6
Date: 01.30.08 7:58am
Focal Length: 300mm (480mm)
Shutter: 1/200 s
F-Stop: F5.6
ISO: 800
Program: Aperture priority
Metering Mode: Evaluative
Flash: Off
Focus Mode: One shot AF
And on your left, you'll see the illusive Fox Squirrel, Sciurus niger. Please keep your arms and legs inside the vehicle at all times as not to provoke attack from this vicious rodent of the trees. Here you see this prime specimen feasting on some bread he most likely stole from an unsuspecting Flock of Seagulls back in the 80's.

Be sure to avoid direct eye contact, as they can sense fear, contempt and the color of your underwear. Fox squirrels hunt in packs and are known to form an equilateral triangle around their prey to distract your attention then attack from the sides. If you encounter this nutty tree rat alone in the wild, your only chance for survival is to remain perfectly still while humming the theme to the American Gladiators (the original, of course).

On a side note, my little brother turns 18 today. How is that even possible?
Happy Birthday! (not that he'll read this...)
Comments (0)
Mark Chandler 01.31.08 6:40am
Congratulations, Jason! One month down, eleven to go!
---
Ami Bradwell 01.31.08 9:39pm
Is it a coincidence that the squirrel's tail resembles kyle's hair??? ;-) Happy birthday Kyle!!!!!
---
Kyle Bradwell 02.05.08 3:43pm
Couldn't avoid the obvious pun on my hair could you Ami? Thanks guys. Nice pic btw I guess that's what I'm supposed to be commenting on aren't I?
---
Jason Bradwell 02.05.08 10:15pm
No pun here... Better look up the word pun in the dictionary, before your English teacher finds out you've been misusing it all these years. :P Go FDSH!
---
Kyle Bradwell 02.11.08 12:43am
eh, english never was my forte.
---
Leave a Comment