Switch Track :
February 01, 2008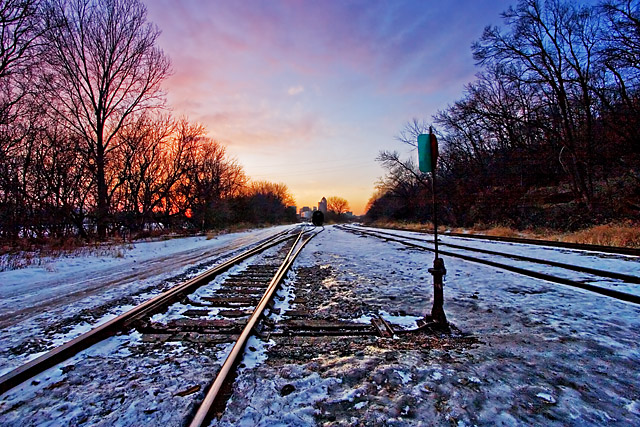 Image Data
File Name: 20D_14455
Model: Canon EOS 20D
Lens: Canon EF-S 10-22mm F/3.5-4.5 USM
Date: 01.31.08 5:25pm
Focal Length: 10mm (16mm)
Shutter: 1/200 s
F-Stop: F7.1
ISO: 200
Ex Bias: -1
Program: Aperture priority
Metering Mode: Evaluative
Flash: Off
Focus Mode: One shot AF
Sometimes I wish we lived in a area that presented itself with more obvious photographic opportunities. Having access to a sandy beaches, a busy downtown littered with skyscrapers and Gothic architecture, or snow capped mountains and rushing waterfalls on a daily basis would be wonderful. But instead, I'm stuck here, smack dab in the center of Iowa, trying to make interesting photos out of our typically boring landscape.

I enjoy exploring the area & searching for new interesting things or areas I haven't seen before, that may be worth of a shutter click or two. This set of tracks is in the valley just south of the Capitol. If you look closely, you can see Iowa's massive skyscraper, the Principal building, poking up above the horizon.
Comments (0)
Leave a Comment