Your fault, or asphalt? :
February 29, 2008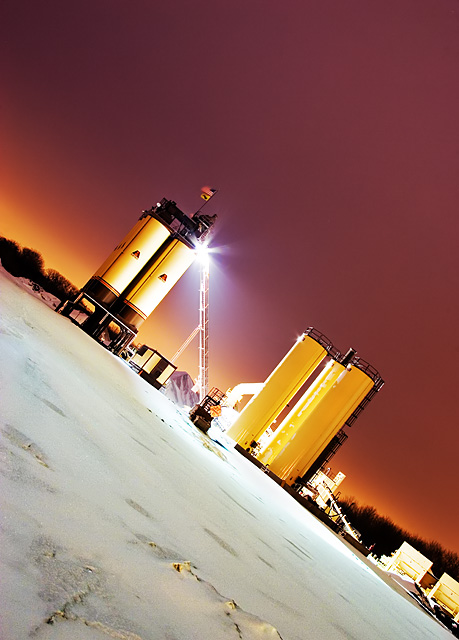 Image Data
File Name: 20D_16202
Model: Canon EOS 20D
Lens: Canon EF-S 17-85mm F4-F5.6 IS USM
Date: 02.28.08 6:46pm
Focal Length: 26mm (42mm)
Shutter: 30 s
F-Stop: F16
ISO: 400
Ex Bias: +4/3
Program: Aperture priority
Metering Mode: Evaluative
Flash: Off
Focus Mode: Manual focus
I decided not to push my luck last night and obeyed the no trespassing sign, setting up right next to it for this shot of the Des Moines Asphalt & Paving facility. The waist-high gate secured by a chain with
five (yes, 5) padlocks on it
was sure intimidating (somebody needs to buy a longer chain ;) ), and would surely keep out all but the most talented and persistent.
Anywho... Asphalt. Or asphalt concrete as the mixture used to surface roads is officially named. What people generally call just concrete is actually portland cement concrete. The engineering definition of concrete is any composite material composed of mineral aggregate glued together with a binder. In this case, the binder is asphalt which after being mixed together with the aggregate is laid down in layers and compacted.
Asphalt itself is a sticky, black and highly viscous liquid or semi-solid that is present in most crude petroleums and in some natural deposits sometimes termed asphaltum. 80% of asphalt in the US is used for roads, with most of the remainder being used in roofing shingles.
Comments (0)
Leave a Comment