He is Risen! :
March 23, 2008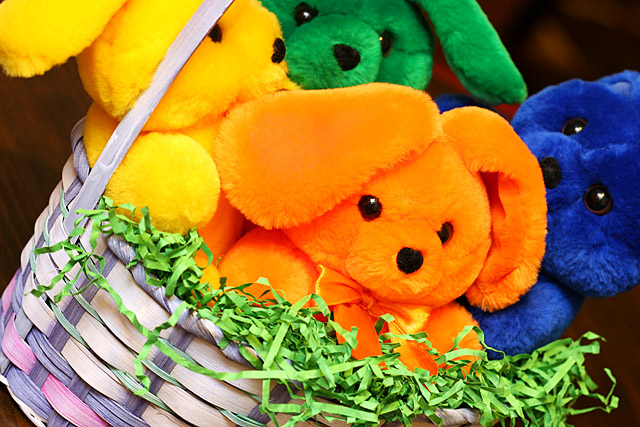 Image Data
File Name: 20D_17937
Model: Canon EOS 20D
Lens: Canon EF 100mm F/2.8 USM Macro
Date: 03.22.08 10:08pm
Focal Length: 100mm (160mm)
Shutter: 1/4 s
F-Stop: F5.6
ISO: 200
Ex Bias: +1/3
Program: Aperture priority
Metering Mode: Evaluative
Flash: On
Flash Bias: +1.33 EV
Flash Details: External flash, E-TTL
Focus Mode: Manual focus
Didn't have much to work with for this Easter photo (Can't believe my mom didn't buy any Peeps!). So you'll just have to put up with a basket-o-bunnies.

Why on Earth does Easter fall on a different Sunday every year? Easter is termed a moveable feast because it is not fixed in relation to the civil calendar. Easter falls on a Sunday between March 22 and April 25 each year, following the cycle of the moon. After several centuries of disagreement, all churches accepted the computation of the Alexandrian Church that Easter is the first Sunday after the first fourteenth day of the moon (the Paschal Full Moon) that is on or after the ecclesiastical vernal equinox. Yup, still confusing.

Easter hasn't fallen this early in March since 1913! In fact, 1913 and 2008 are the only years from 1875 to 2124 that Easter is this early (probably a larger range as well, but that is as far as I could find the data). Crazy!
Comments (0)
Ami Bradwell 03.23.08 7:29am
Good job, Deb!! Down with Peeps!!!

Happy Easter!!!
---
Mom 03.25.08 7:42pm
Glad I could oblige somehow! I enjoyed seeing this photo being created and photographed!
---
Leave a Comment