Ergh! :
October 26, 2009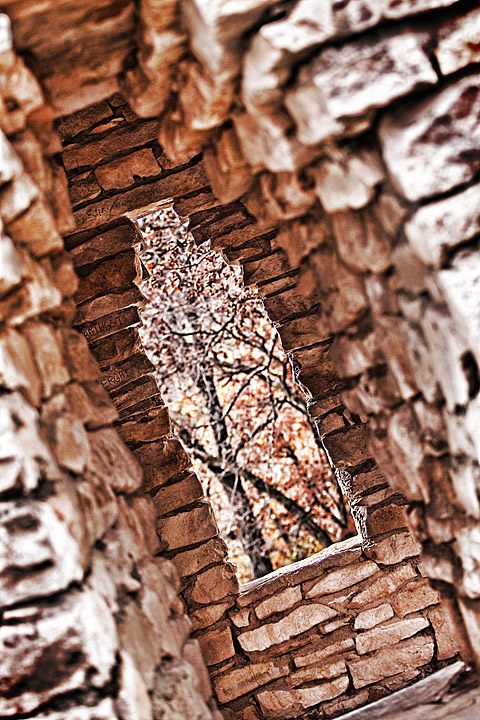 Image Data
File Name: 50D_71568
Model: Canon EOS 50D
Lens: Canon EF 70-200mm F/2.8L USM
Date: 10.24.09 4:21pm
Focal Length: 70mm (112mm)
Shutter: 1/80 s
F-Stop: F2.8
ISO: 200
Ex Bias: +1/3
Program: Aperture priority
Metering Mode: Evaluative
Focus Mode: One shot AF
Look closely & you'll see it written on the wall...

This is a view through Clark Tower in Winterset. We ended up there because of Ami's geocaching addiction.

The tower stands 25' tall and was erected in 1926, on the eightieth anniversary of the founding of Madison County, in memory of Caleb Clark (and his wife, Ruth), a stonemason who was the first white settler of Madison County.
Comments (0)
ami 10.26.09 5:23am
Woo!! Our first virtual cache!!


(Virtual Cache:
A virtual cache is a cache that exists in a form of a location. Depending on the cache "hider," a virtual cache could be to answer a question about a location, an interesting spot, a task, etc. The reward for these caches is the location itself and sharing information about your visit.

Because of the nature of these geocaches, you must actually visit the location and acquire the coordinates there before you can post. In addition, although many locations are interesting, a virtual cache should be out of the ordinary enough to warrant logging a visit.

Virtuals are now considered waymarks on Waymarking.com.)
---
jwen 10.26.09 4:12pm
i like this one.
i'm pretty sure it says beefnuggets on the wall too.
i'm not sure though, i can't squint that hard. :\
---
Leave a Comment