Yer Doin it Wrong! :
April 08, 2008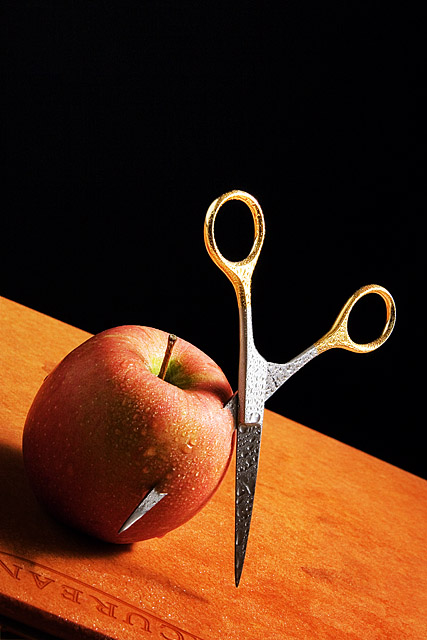 Image Data
File Name: 20D_19515
Model: Canon EOS 20D
Lens: Canon EF-S 17-85mm F4-F5.6 IS USM
Date: 04.07.08 11:34pm
Focal Length: 59mm (94mm)
Shutter: 3 s
F-Stop: F16
ISO: 200
Program: Aperture priority
Metering Mode: Evaluative
Flash: Off
Focus Mode: One shot AF
Oh, I know you ain't be cuttin mah apple with none of dem dare scissors! Now look whacha dun dood done! Gotem em stuck all up in there like an Eskimo in jo momma's chest freezer.

Betta go finds me a two by fo, tree pounds a butter and a six pack a PBR, cuz we gots some work to do and dis ain't gona be pretty. Go ahead an tell that Wal-mart boy we'z gona need some cleanup in aisle 12.

Comments (0)
ami bradwell 04.08.08 7:39am
are those my good scissors?!?!?!

---
Colin 04.08.08 6:09pm
From British to Southern in less than a week.
---
Jason Bradwell 04.08.08 7:07pm
I'm cultured.
---
msdedi 11.07.08 6:13pm
there.. correct translation 'dhere'
---
Leave a Comment