Krispie Treat :
April 07, 2008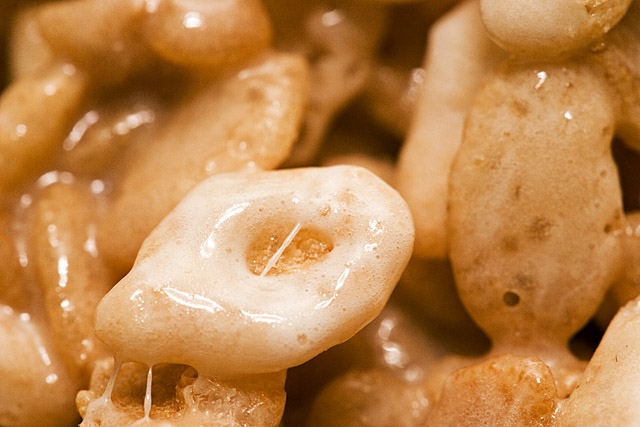 Image Data
File Name: 20D_19488
Model: Canon EOS 20D
Lens: Canon EF 100mm F/2.8 USM Macro
Date: 04.06.08 8:40pm
Focal Length: 100mm (160mm)
Shutter: 1/100 s
F-Stop: F8
ISO: 400
Program: Manual
Metering Mode: Evaluative
Flash: On
Flash Bias: +1 EV
Flash Details: External flash, E-TTL
Focus Mode: Manual focus
Mmmm.. Gooey marshmallows and rice of the puffy kind. But why do these krazy kritters snap, crackle and pop when you pour milk on them?

The high temperature at which the cereal's cooked creates extremely strong bonds that hold the rice's starch molecules together. The strong bonds make the rice act like glass.

During the cooking process, each piece of rice expands and a network of air-filled caves and tunnels form inside.

When you pour milk into your breakfast bowl, the cereal absorbs the milk. As milk flows into the crispy kernel, the liquid puts pressure on the air inside and pushes it around.

The air shoves against each pocket's walls until they shatter, forcing out a snap, or a crackle, or, as you know, sometimes a pop.
Comments (0)
Mom 04.07.08 9:30pm
Very interesting, I always wondered how the sound was made.
---
Leave a Comment