Principal Reflection :
February 11, 2008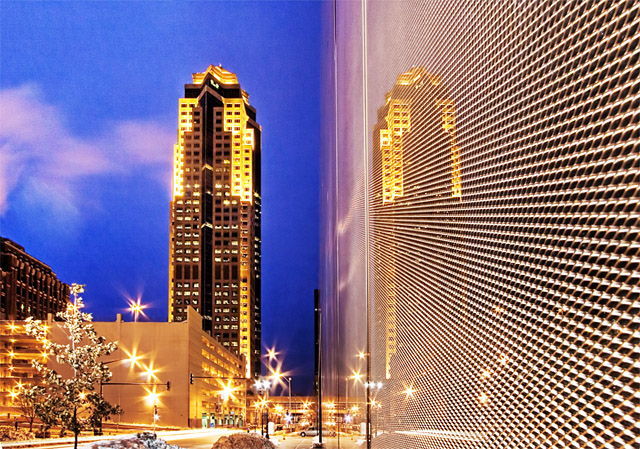 Image Data
File Name: 20D_15261
Model: Canon EOS 20D
Lens: Canon EF-S 10-22mm F/3.5-4.5 USM
Date: 02.10.08 6:16pm
Focal Length: 10mm (16mm)
Shutter: 6 s
F-Stop: F16
ISO: 200
Ex Bias: +2/3
Program: Aperture priority
Metering Mode: Evaluative
Flash: Off
Focus Mode: Manual focus
801 Grand, also known as the Principal building is the tallest building in Iowa at 630' and 41 stories. The top 2 floors are home to a privately owned club named the Embassy Club. The lower three floors contain retail and restaurant space, including the 801 Steak & Chop House (exPENsive!).

The reflection is seen in the glass of the new library. The library is currently suing the architect & contractor since 31 panes of this glass, at a cost of $8,000 each, have cracked since the $32 million library opened in 2006.
Comments (0)
Ricky/Sk8zero3 - Web
02.14.08 12:28pm
I like how the glass "texture?" makes the reflection seem to grow
---
Leave a Comment