The Scenic Line :
February 10, 2008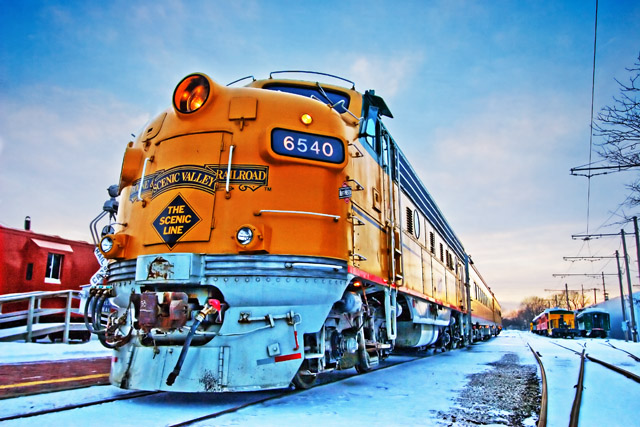 Image Data
File Name: 20D_15171
Model: Canon EOS 20D
Lens: Canon EF-S 10-22mm F/3.5-4.5 USM
Date: 02.09.08 5:29pm
Focal Length: 19mm (30mm)
Shutter: 1/125 s
F-Stop: F6.3
ISO: 200
Ex Bias: -2/3
Program: Aperture priority
Metering Mode: Evaluative
Flash: Off
Focus Mode: One shot AF
Braved the cold wind and blowing snow to make a trip up to Ledges State Park and the Boone Scenic Valley Railroad yesterday afternoon. Had a fun time hiking through the river valley and the biggest hills you'll find in central Iowa.

Made it up to the train station just in time to snap a handful of shots of the passenger train before it took off for its 2 hour Valentine dinner ride. We've ridden the train a couple times before, once for a dinner ride. Not overly exciting, but its something different anyway.
Comments (0)
Alyssa Schultz 02.13.08 11:55am
Amazing!! Love it!
---
Rick Glessner 02.23.08 8:32pm
Beautiful picture. You should send them to TRAINS magazine. Yes, there is such a magazine.
---
Leave a Comment