Pump You Up :
February 18, 2009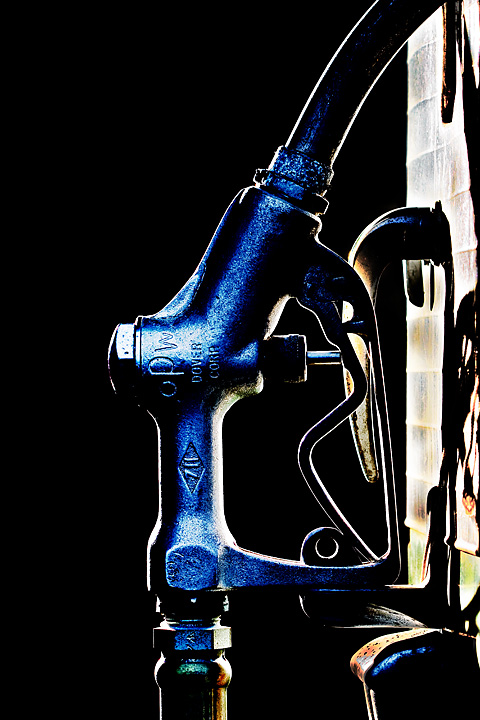 Image Data
File Name: 50D_11169
Model: Canon EOS 50D
Lens: Canon EF 100mm F/2.8 USM Macro
Date: 02.17.09 5:47pm
Focal Length: 100mm (160mm)
Shutter: 1/3 s
F-Stop: F4
ISO: 100
Ex Bias: -1
Program: Aperture priority
Metering Mode: Evaluative
Flash: Off
Focus Mode: One shot AF
The first gasoline pump was invented and sold in 1885 by Sylvanus F. Bowser in Fort Wayne, Indiana. It was used for kerosene lamps & stoves, since automobiles hadn't been invented yet!

Modern pumps have an auto cut-off feature that stops the flow of fuel once the tank is full. This is done by having a second tube, the sensing tube, that runs from just inside the mouth of the nozzle up to a Venturi pump in the pump handle. While the tank is being filled, air displaced from the tank is drawn up this tube. Once the fuel level reaches the mouth of the sensing tube, air is no longer drawn up the sensing line. A mechanical valve in the pump handle detects this change of pressure and closes, preventing the flow of fuel.

Thanks to John for letting me know about this old mock-station in Cumming.
Comments (0)
Rich Almond 02.18.09 10:00am
Good picture, vintage electric pump nozzle. Nothing compared to the early vintage visable pumps and their glory. Back in the day where gravity was the key. Lotta history and the hundreds of companies who made them are now gone. There is something about the gas pumps and the old cars that just can't be forgotten.
As a true collector, I enjoy these types of pictures. Good job!!!
FYI: I work with your mother-in-law..

---
Mom 02.18.09 8:51pm
I always wondered how that worked. Thanks for the info and good picture!
---
Jason Bradwell 02.18.09 11:04pm
Thanks for the comment, Rich. You have quite the collection from what I hear. I'll hafta stop by & check everything out sometime when I'm up in Dodge.
---
Leave a Comment