The House :
January 28, 2009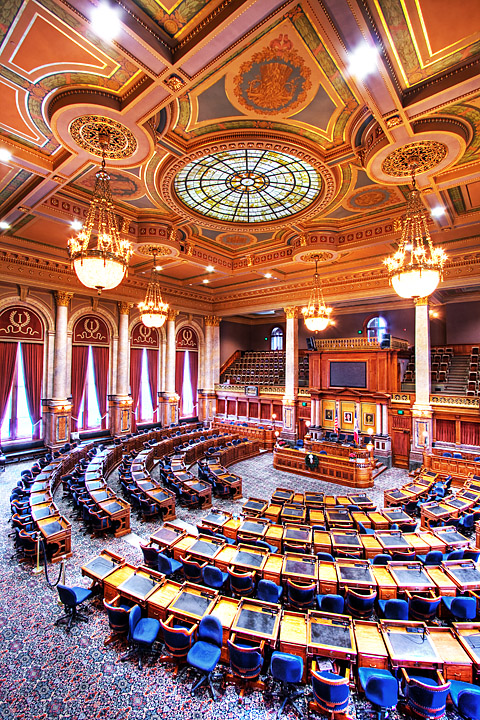 Image Data
File Name: 50D_03615
Model: Canon EOS 50D
Lens: Canon EF-S 10-22mm F/3.5-4.5 USM
Date: 12.26.08 2:46pm
Focal Length: 10mm (16mm)
Shutter: 4 s
F-Stop: F11
ISO: 100
Ex Bias: +1
Program: Aperture priority
Metering Mode: Evaluative
Flash: Off
Focus Mode: Manual focus
The Iowa legislature has been in session now for a couple weeks now, continuing until May 1. Here's a view of the House of Representatives' Chamber. Seems like they're wasting time working on silly laws, rather than real important stuff.

The House chamber was dedicated in 1884. The legislators (100) use this chamber during each session of the Iowa General Assembly. Each General Assembly consists of two consecutive sessions -- one session each year -- for two years. Every session begins on the second Monday in January, extending approximately 100 days in even-number years, and 110 days in odd-numbered years. The months between the sessions are referred to as the "interim" period. Each representative holds a two-year term, and must run for re-election at the end of the term if desiring to continue to serve in the House.

Extensive damage was done to the House Chamber during the 1904 fire. After the fire, the entire ceiling, stained glass, and chandeliers had to be replaced.
Comments (0)
Julian 01.28.09 9:31am
Have you ever considered going to the old capitol building in Iowa City? It's kind of a neat building. Obviously, it's not as swanky as our new capitol building.
---
Jason Bradwell 01.28.09 10:18am
Been quite a while since I've been in there. I'll hafta be sure to check it out again whenever I'm out that way again.
---
Eric Martin 01.28.09 11:51am
This looks to be very ornate and fancy-pants. Who knew there was such opulence at the Iowa legislature?
---
Leave a Comment