Icy Shiverz :
January 26, 2009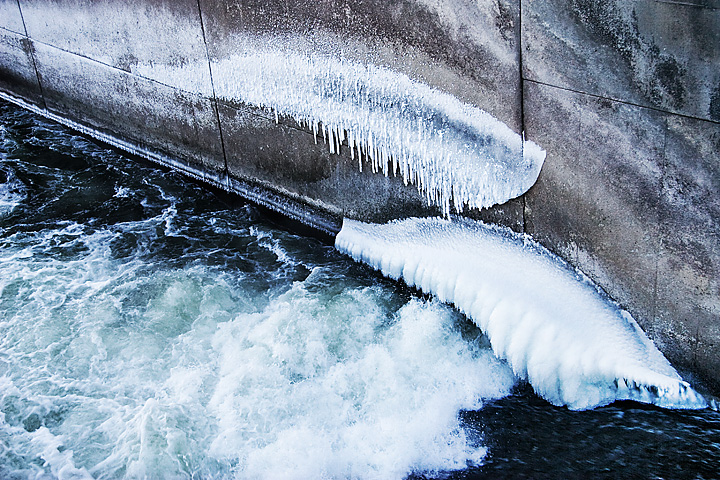 Image Data
File Name: 20D_70874
Model: Canon EOS 20D
Lens: Canon EF-S 17-85mm F4-F5.6 IS USM
Date: 01.24.09 4:49pm
Focal Length: 33mm (53mm)
Shutter: 1/100 s
F-Stop: F5.6
ISO: 200
Ex Bias: +1/3
Program: Aperture priority
Metering Mode: Evaluative
Flash: Off
Focus Mode: One shot AF
It's always funny to see a vast frozen lake on one side of the dam, but then a heavy flow of frigid water escaping from the other side.

I know Saylorville reservoir could never freeze completely solid (due to the insulating factor of the surface ice and that cold water sinks, where it can be warmed by the earth below), but I wonder if it has ever been cold enough for long enough that the water at the outlet was able to freeze over? The water probably moving so fast that is would be impossible to happen. So all we get is this little ice ledge forming here.
Comments (0)
Colin 01.26.09 8:03am
0.25C water will melt ice if you've got the volume.
---
Leave a Comment