Spider Cakes :
October 21, 2008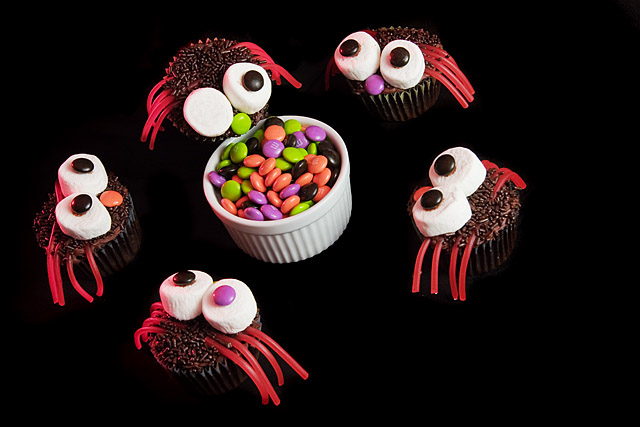 Image Data
File Name: 20D_64829
Model: Canon EOS 20D
Lens: Canon EF-S 17-85mm F4-F5.6 IS USM
Date: 10.21.08 1:26am
Focal Length: 50mm (80mm)
Shutter: 1 s
F-Stop: F11
ISO: 400
Ex Bias: +2/3
Program: Aperture priority
Metering Mode: Evaluative
Flash: Off
Focus Mode: Manual focus
Oh, Larry, don't you ever learn? How many times have I told you not to lean over the simmering pot of eyeball stew? Now your good peeper done fell right in.

You're on your own fishing that spooky flattened sphere out before your buddies up & eat it.

Comments (0)
Mark 10.21.08 8:09am
I agree with Eric Martin- you do great food photography!
---
Ami's momma 10.21.08 9:15am
Good job on the cupcakes, Ami!!!
---
ami 10.21.08 9:53am
They taste as yummy as the look :)

---
Alyssa Schultz 10.21.08 10:48am
Cute cupcakes Ami!! I might have to try those out :)
---
jwen 10.21.08 3:37pm
ahahahah. i'm surprised they aren't shaped like spider pigs.
(do i get one of these?! :P)
---
Leave a Comment