Younked :
August 30, 2008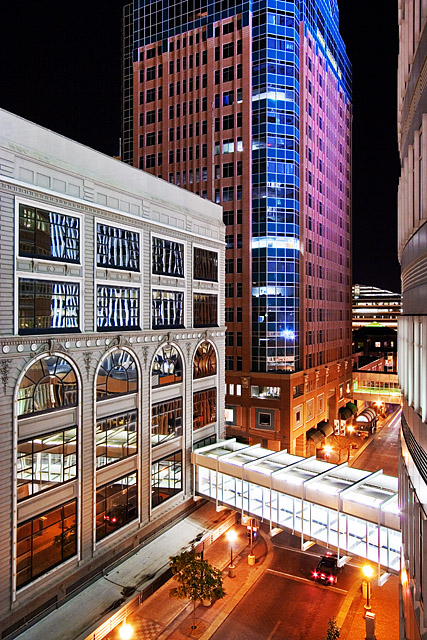 Image Data
File Name: 20D_50657
Model: Canon EOS 20D
Lens: Canon EF-S 10-22mm F/3.5-4.5 USM
Date: 08.29.08 10:00pm
Focal Length: 17mm (27mm)
Shutter: 8 s
F-Stop: F11
ISO: 200
Ex Bias: +1/3
Program: Aperture priority
Metering Mode: Evaluative
Flash: Off
Focus Mode: Manual focus
Younkers was founded by Polish Jewish immigrant brothers Lipman, Samuel, and Marcus Younker, who opened a general store in Keokuk, Iowa in 1856. Herman Younker, the youngest of the brothers, opened a dry goods store in Des Moines, Iowa in 1874. Following Samuel's death in 1879, the Keokuk store was closed and the Des Moines location became the main store.

In 1899 the Younker brothers' main store in downtown Des Moines was moved to 7th and Walnut Streets, and it operated at the same location for 106 years before closing on August 12, 2005. The downtown Des Moines store became known for its Tea Room restaurant, which opened in 1913 and closed shortly before the store did. It also installed Iowa's first escalator, known as the "electric stairs," in 1939.

A Virginia-based developer with Iowa ties wants to buy the downtown Younkers store and renovate it as a historic property that could include a hotel, retail and residential units.
Comments (0)
Colin 08.30.08 12:12am
Dude, you cropped me out!
---
Colin 08.30.08 8:05pm
FYI

Left building is the Younkers Building (Financial Center reflected in its windows). Hub Tower across the way. EMC Insurance on the right (barely). I think that's Capital Square in the distance
---
Leave a Comment