Transmi :
August 29, 2008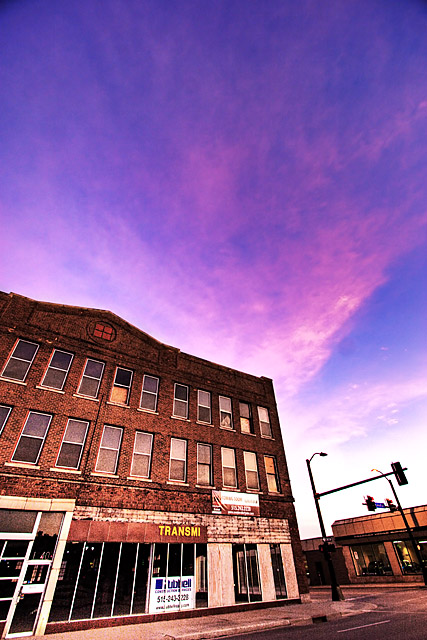 Image Data
File Name: 20D_50443
Model: Canon EOS 20D
Lens: Canon EF-S 10-22mm F/3.5-4.5 USM
Date: 08.28.08 8:13pm
Focal Length: 10mm (16mm)
Shutter: 1/20 s
F-Stop: F4.5
ISO: 200
Ex Bias: -1/3
Program: Aperture priority
Metering Mode: Evaluative
Flash: Off
Focus Mode: Manual focus
Transmi? Trans
you
!
I have a request of my central Iowa viewers. I have some cool photo ideas floating in my head that involve a merry-go-round. Not a big fantasy-critter laden carousel, but the little death traps that I had so much fun flinging people off of as a kid; that used to be in pretty much every playground in town. In today's society of over protectiveness and lawsuits, it would appear all the m-g-w's have been ripped out (along with everything else cool) and replaced with pointless, plastic, can't-hurt-yourself-too-bad, junk.
So, my question is, does anybody know of someplace in the Des Moines (or Fort Dodge, even) area where one of these rusty beasts is still creaking along, giving children a real reason to have those tetanus shots and health insurance?
Oh, and BTW,
Here's some more downtown Des Moines pictures from last night
« Click
Comments (0)
ami 08.29.08 6:51am
There used to be a good one at Snell-Crawford... wonder if its still there...
---
Tracy 08.29.08 7:43am
Are you talking about the ones that were flat and circular with segments that were red, yellow, and blue with about 6 handles that started at the center and went to the edge? If so, there is one at the park in Pocahontas. We were there in July and it's in great shape.
---
matt 08.29.08 8:02am
There is one of these is Newton.
---
Steve 08.29.08 8:09am
As of a year ago, there was one at the elementary school in Granger. My son went flying off of it a time or two. Got pretty banged up. Good times. Hey, is it too late to sue 'em?
---
Tracy 09.02.08 7:51am
There's also a wooden one in great shape way up in Emmetsburg.
---
Alyssa Schultz 09.02.08 3:08pm
There is still one at Hydro-Electric park here in FD too
---
Leave a Comment