Nado Done Torn :
August 31, 2008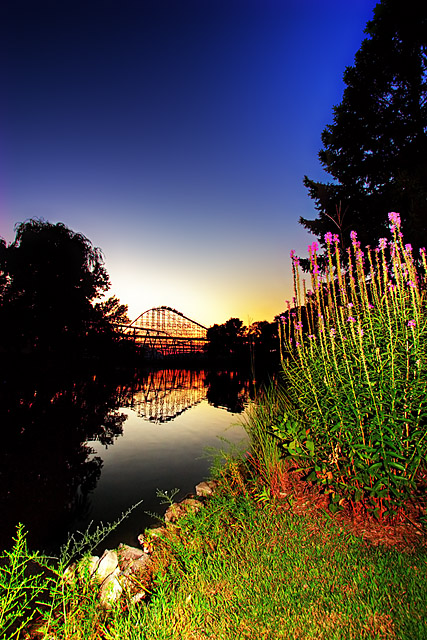 Image Data
File Name: 20D_53204
Model: Canon EOS 20D
Lens: Canon EF-S 10-22mm F/3.5-4.5 USM
Date: 08.30.08 7:51pm
Focal Length: 10mm (16mm)
Shutter: 1/125 s
F-Stop: F8
ISO: 200
Ex Bias: -4/3
Program: Aperture priority
Metering Mode: Evaluative
Flash: On
Flash Bias: +1 EV
Flash Details: External flash, E-TTL
Focus Mode: Manual focus
Adventureland Park did not have a website until just a few years ago because, according to a marketing director, the owner didn't want one. According to his son, Jack Krantz not only didn't want a website, he never had a computer in his office. He instead used an assortment of post-it notes, legal pads, and paper napkins. Most of the design elements of the park began their journey into creation on paper napkins. Eventually a website was launched under the domain name adventureland-usa.com because adventurelandpark.com had already been registered by someone who was supposed to be working on a site for them. Eventually Adventureland was able to obtain and use the now-promoted adventurelandpark.com domain.

Looks like I'll be jumping out of an airplane again today. So, if there is no new photo up tomorrow...
Comments (0)
Leave a Comment