I Can Fly! :
September 01, 2008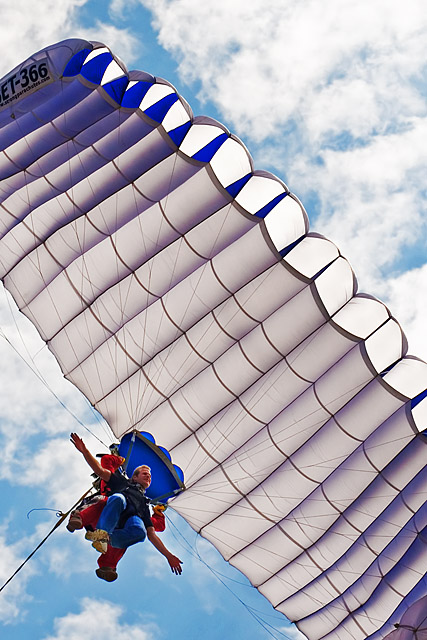 Image Data
File Name: 20D_53382
Model: Canon EOS 20D
Lens: Canon EF 70-200mm F/2.8L USM
Date: 08.31.08 11:22am
Focal Length: 110mm (176mm)
Shutter: 1/3200 s
F-Stop: F5.6
ISO: 200
Program: Aperture priority
Metering Mode: Evaluative
Flash: Off
Focus Mode: AI servo AF
For those of you who read my photo comments yesterday, you'll be glad (hopefully) to know that I survived the jump! :)
Nothing says fun (or crazy, I suppose) like flinging yourself out of a perfectly good airplane from 2.5 miles above the earth with a monkey on your back. Freefall about 1.5 miles at 120 mph (terminal velocity) in less than a minute before the chute is pulled. The ground comes up awfully fast! The terminal velocity during freefall could reach 200 mph by bringing in your arms to become more aerodynamic. Competition speed skydivers fly in the head down position reaching insanely high speeds, with the current world record set at 614 mph(!) by Joseph Kittinger at high altitude where the lesser density of the atmosphere decreased drag.
This was the second time I'd jumped, with cost being the only inhibiting factor to doing it regularly. If I got certified, then I could do arial photos. :)
This is not me in the photo. More skydiving photos, as well as some that Ami shot of me can be found here -
www.pictureiowa.com/gallery/v/events/20080831-skydive/
Comments (0)
Colin 09.01.08 12:27am
Kittinger was awarded the Distinguished Flying Cross for his service (102,000 foot jump!). Our nation's beloved Senator Joseph McCarthy also was awarded the DFC, but he lied and forged signatures to get it. Ugh...
---
Leave a Comment