Absolut Insurance :
August 23, 2008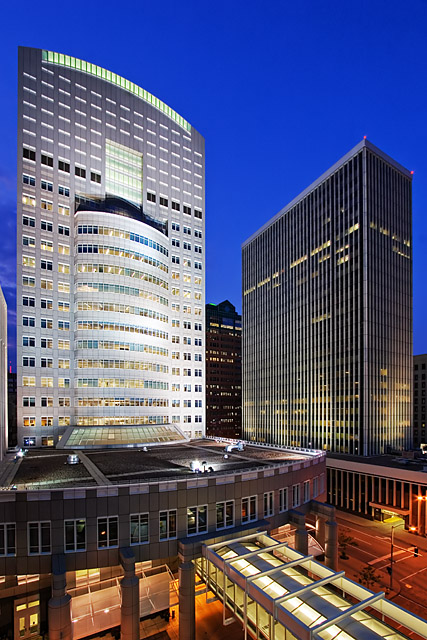 Image Data
File Name: 20D_48491
Model: Canon EOS 20D
Lens: Canon EF-S 10-22mm F/3.5-4.5 USM
Date: 08.22.08 8:28pm
Focal Length: 10mm (16mm)
Shutter: 1 s
F-Stop: F11
ISO: 200
Ex Bias: -1/3
Program: Aperture priority
Metering Mode: Evaluative
Flash: Off
Focus Mode: Manual focus
So, did they intentionally cut a bottle of Absolut vodka into the side of the Downtown Des Moines EMC Insurance building? Way to go Brooks Borg Skiles! Surprised it hasn't appeared in one of Absolut's ads. ;)

Hmmm... a 17 story bottle of V. How many shots could you pour for your Russian friends from that? Unless they're posers, zero, since a real Russian wouldn't be caught dead drinking Swedish V.juice!

Comments (0)
someone 08.23.08 2:37am
yes, Stoli Elit is where it is at. f' that french and swede crap!
---
Colin 08.23.08 10:22am
Assume 10 feet per story so 170 feet tall. The bottle's diameter is roughly 1/2 the height. A cylinder 170h x 85d has a volume of 964,000 cubic feet or 923 million ounces or 615 million 1.5 oz shots.

Enough for about, what?, 20 people?

(You expected less from me?)
---
Jason Bradwell 08.23.08 12:47pm
Ha. I thought about doing the math, but figured why waste my time when you'd gladly to it for me :P
---
Colin 08.24.08 12:32am
Jason's real reason: too complicated. That's why the verification is always 2+2!
---
Leave a Comment