Measure Up :
July 29, 2008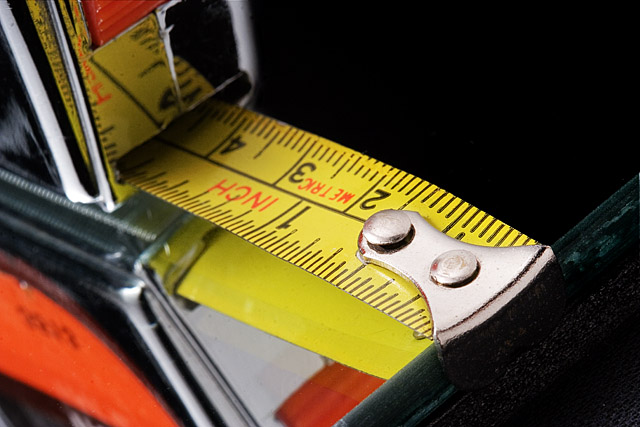 Image Data
File Name: 20D_39261
Model: Canon EOS 20D
Lens: Canon EF 100mm F/2.8 USM Macro
Date: 07.28.08 11:49pm
Focal Length: 100mm (160mm)
Shutter: 3 s
F-Stop: F16
ISO: 200
Ex Bias: +1
Program: Aperture priority
Metering Mode: Evaluative
Flash: Off
Focus Mode: Manual focus
One little-known feature on most metal tape measures is a small black diamond that appears every 19.2 inches, known as the 'black truss' markings. This is used to mark out an equal five trusses per standard eight-foot sheet of building material. (8' (96"), divided by 5 is 19.2")

The design on which most modern spring tape measures are built was patented by Alvin Fellows of New Haven, Connecticut on 14 July 1868. According to the text of his patent, Fellows' tape measure was only an improvement on other versions previously designed. The design did not come into wide usage until the early 1940s, when it slowly began to supplant the folding wood carpenter's ruler.
Comments (0)
Leave a Comment