Reservoir Rush :
January 24, 2008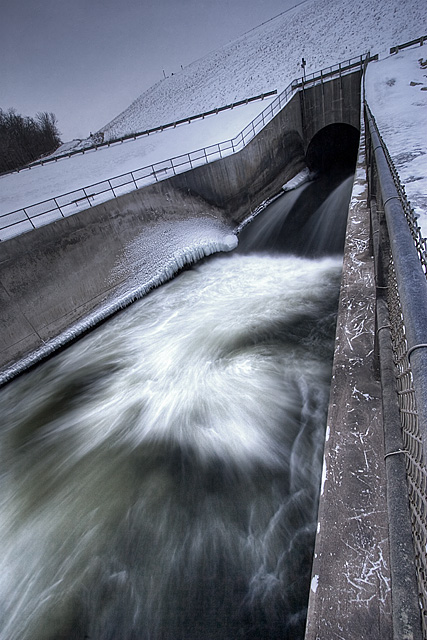 Image Data
File Name: 20D_13713
Model: Canon EOS 20D
Lens: Canon EF-S 10-22mm F/3.5-4.5 USM
Date: 01.23.08 5:21pm
Focal Length: 10mm (16mm)
Shutter: 2 s
F-Stop: F22
ISO: 100
Program: Aperture priority
Metering Mode: Evaluative
Flash: Off
Focus Mode: One shot AF
Reservoir Rush
Thanks for the Like/Fave!
Views: 934
You Liked/Faved This
(49)
Saylorville
I decided to venture up to Saylorville Lake after work yesterday. Man, was it ever cold and windy! Surprised an appendage didn't freeze off. The blowing snow quickly spotted up my lens like an leopard with the measles, so I didn't stick around for too long.

Saylorville is a man made lake formed by the dam that became operational in 1977. It was authorized by Congress in 1958 as part of a flood control system for the Des Moines and Mississippi rivers. The dam itself is 6,750 feet long, 105 feet tall, and 44 feet wide.

I sure wouldn't want to fall in there! Ami is always afraid I will since I like to lean over the edge of fences. I remember having a No Fear shirt back in middle school that said, "If you're not living on the edge, you're taking up too much space".

Comments (0)
ami bradwell 01.24.08 6:46am
No LEANING!!!!
---
Laurie Bergren 01.28.08 9:03pm
What Ami said. Or at least not without a safety harness. Properly affixed to something big and immobile. Oh, and a buddy (with fully charged cell phone in pocket, with pre-programmed emergency numbers). I could go on, but you get the picture. No pun intended.
---
Leave a Comment