Smoke on the Water :
January 25, 2008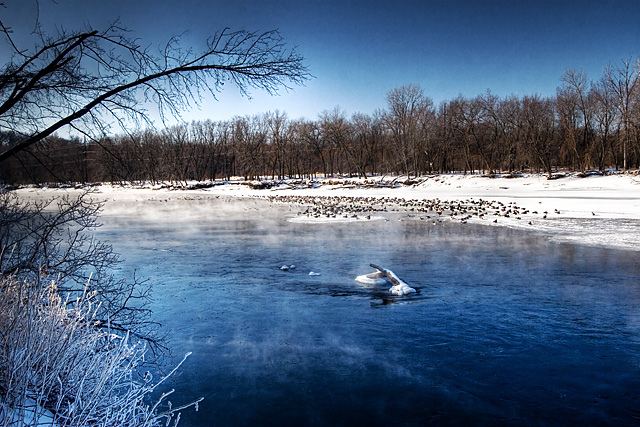 Image Data
File Name: 20D_13743
Model: Canon EOS 20D
Lens: Canon EF-S 10-22mm F/3.5-4.5 USM
Date: 01.24.08 9:44am
Focal Length: 22mm (35mm)
Shutter: 1/160 s
F-Stop: F9
ISO: 200
Program: Aperture priority
Metering Mode: Evaluative
Flash: Off
Focus Mode: One shot AF
Well, actually steam... Saw big misty puffs lofting over the river as I flew across the bridge on my way to work. My camera was sitting next to me, but it was -10° with deep snow and I hadn't brought my boots, so I reluctantly kept on driving.
Well, I decided this was too rare an opportunity to miss and ended up going back to get my boots, parked on the side of the interstate, ran down the embankment and climbed two fences to discover most of the steam had dissipated already. I'm sure this would have been a much cooler shot had I stopped the first time. Photography can be all about capturing that fleeting moment, and this time I missed the bus.
I was torn between two photos for today. Here's a link to my alternate choice.

Comments (0)
Leave a Comment