Patty's Pinch :
March 17, 2008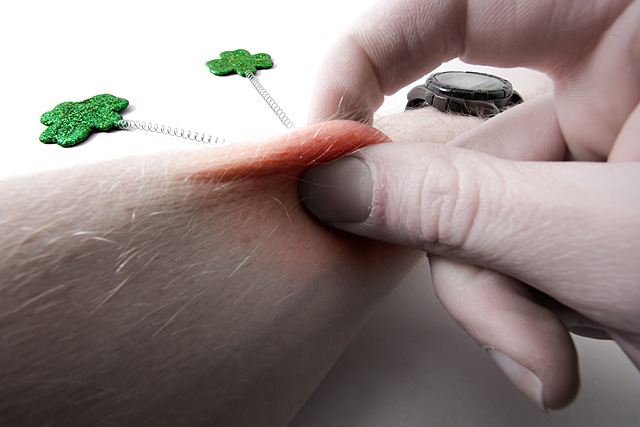 Image Data
File Name: 20D_17529
Model: Canon EOS 20D
Lens: Canon EF-S 10-22mm F/3.5-4.5 USM
Date: 03.16.08 11:08pm
Focal Length: 10mm (16mm)
Shutter: 1/250 s
F-Stop: F16
ISO: 400
Program: Manual
Metering Mode: Evaluative
Flash: On
Flash Details: Manual
Focus Mode: Manual focus
OUCH! Happy St. Patrick's Day!

Don't forget to wear green today, or you might end up getting nailed with an unsuspecting pinch from a friend or co-worker who ate too many lead paint chips as a child & never grew up. But rememember, if you are wearing green & still get pinched, you must pinch them back ten times! mmm, Payback.

Oh, did I mention how lame the hyped St. Patty's day parade in Chi-town was? Oh yeah, did that yesterday. Got to shake the Illinois governor's hand though. Talk about a lifetime highlight right there.
Comments (0)
Caroline 03.24.08 12:53am
Uh...that looks like it hurt...a lot!!!
---
Tiny 03.31.08 10:35am
You should come to Scranton, PA for our St Patty's Day parade!! I guarantee it outdoes the Chi-town parade by FAR.
---
Leave a Comment