Knobber :
March 18, 2008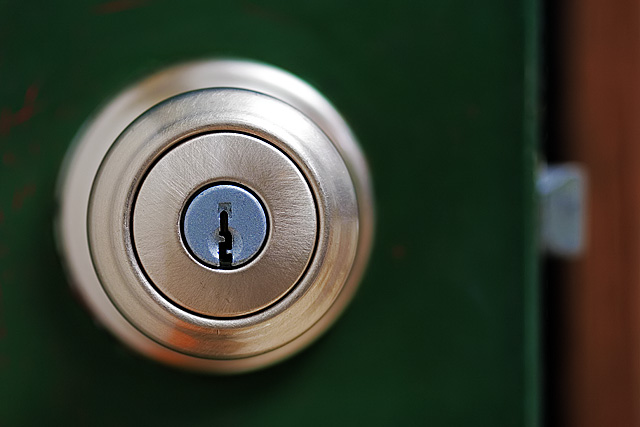 Image Data
File Name: 20D_17549
Model: Canon EOS 20D
Lens: Canon EF 100mm F/2.8 USM Macro
Date: 03.17.08 11:22pm
Focal Length: 100mm (160mm)
Shutter: 1/250 s
F-Stop: F2.8
ISO: 200
Program: Manual
Metering Mode: Evaluative
Flash: On
Flash Bias: +1.33 EV
Flash Details: External flash, E-TTL
Focus Mode: One shot AF
The basic principles of the pin tumbler lock (the type mechanism used in the cylinder locks of keyed doors) may date as far back as 2000 BC in Egypt.

In this type of lock, an outer casing has a cylindrical hole in which the plug is housed. To open the lock, the plug must rotate. The plug contains a series (usually 5 or 6) of pins that are split at different heights and held in place by springs. The pins prevent the plug from rotating. When the proper key is inserted into the lock, the notches ground into the key align all the breaks in the pins to the same level, aligning at the shear point to allowing the plug to turn and unlock.

Unfortunately, this type of lock is easily prone to picking or bumping. So just like most locks, they really only keep an honest person out. Locks mostly give a false sense of security. If somebody really wants in, they'll get in, and probably easier than you think.
Comments (0)
Leave a Comment