Peek-a-Boo! :
March 10, 2008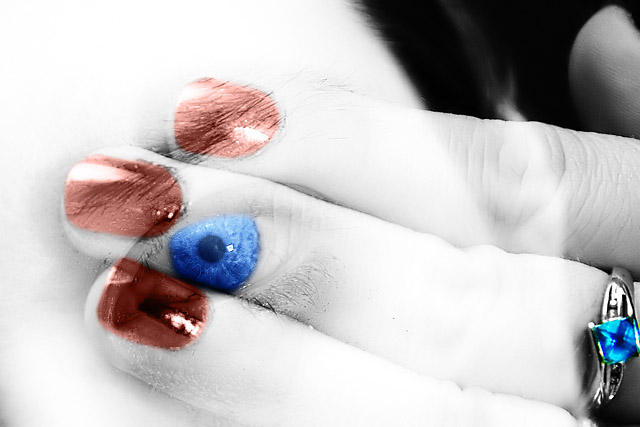 Image Data
File Name: 20D_16676
Model: Canon EOS 20D
Lens: Canon EF-S 17-85mm F4-F5.6 IS USM
Date: 03.09.08 6:47pm
Focal Length: 85mm (136mm)
Shutter: 2 s
F-Stop: F7.1
ISO: 100
Program: Manual
Metering Mode: Evaluative
Flash: Off
Focus Mode: One shot AF
Yes, this is a single shot. Quasi double-exposure by using two flashes (from the same flash, not 2 units) during a long exposure. The first flash with the eye covered by Ami's hand, the second with it uncovered.

The original plan was to have both eyes in the shot, with the right eye being uncovered the whole time. But Ami couldn't keep still enough when moving her hand, so she always ended up with three eyes. Good for monsters, not for wifebands.
Comments (0)
ami bradwell 03.10.08 6:44am
i can't sit still! I wiggle!! :Þ
---
Leave a Comment