Chief Steeler :
November 25, 2009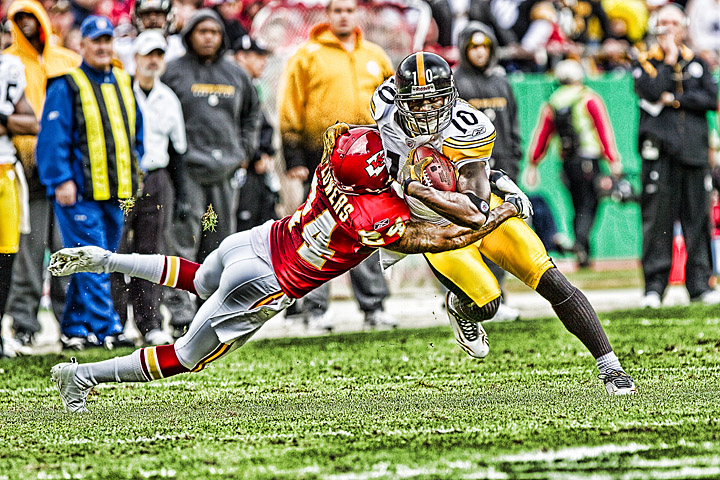 Image Data
File Name: 7D_13966
Model: Canon EOS 7D
Date: 11.22.09 1:07pm
Focal Length: 300mm (480mm)
Shutter: 1/800 s
F-Stop: F3.5
ISO: 200
Program: Manual
Metering Mode: Evaluative
Flash: Off
Focus Mode: AI servo AF
The tables were turned, since it was the Chiefs that stole the victory from the Steelers.

It's like cops & robbers meets cowboys & Indians.
Comments (0)
Krista 11.25.09 9:57am
I am an amateur photographer and find your daily postings highly inspirational. I'm trying to teach myself Photoshop. How do you achieve what appears to be 'white highlights' (the best way I can describe) on clothing, skin, grass, etc? I would appreciate the tip!
---
Jason Bradwell 11.29.09 10:12pm
Krista - I'm glad you're enjoying my photography! The main requirement for achieving the look on many of my photos is to shoot RAW, so that all the extra details in the highlights & shadows are retained. Then it comes down to various adjustments of the curves & levels, layers, etc, possibly some filters, or HDR processing.

Good luck with your photography! :)
---
Krista 12.03.09 3:58pm
Jason, Thanks! Let me know when you start taking students!
---
Leave a Comment