I... Do? :
April 04, 2009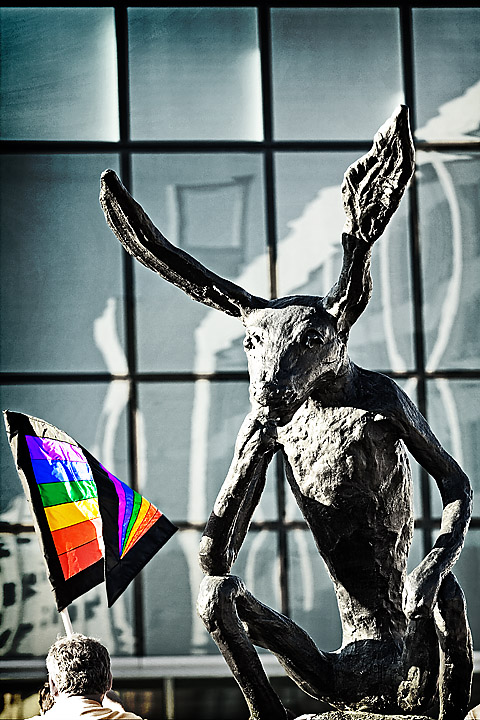 Image Data
File Name: 50D_18393
Model: Canon EOS 50D
Lens: Canon EF 70-200mm F/2.8L USM
Date: 04.03.09 6:01pm
Focal Length: 120mm (192mm)
Shutter: 1/200 s
F-Stop: F4
ISO: 100
Program: Aperture priority
Metering Mode: Evaluative
Flash: Off
Focus Mode: One shot AF
It was a historic day in Iowa yesterday when the Supreme Court ruled that the law stating marriage was to be only be between a man & a woman violated the equal protection and due process clauses of the Iowa Constitution. This is a scene from the celebration rally downtown last night.

So, what's the big deal about gay marriage anyway? I'm pretty much indifferent on about the whole deal. The term "marriage" in the eyes of the government is all about rules, benefits & paperwork, not religion. If a same-sex couple is truly happy, then they should be able to receive the same legal benefits as a heterosexual couple. If marriage is what it takes, then fine, whatever. Whats to get up in arms about? How does it really affect you personally? It's not like you're going to be seeing Bob & Tom's wedding at St. Mary's Catholic Church....
Comments (0)
ami 04.04.09 11:07am
Why is there a gremlin downtown?
---
Leave a Comment