Shamrock Ethyl :
February 20, 2009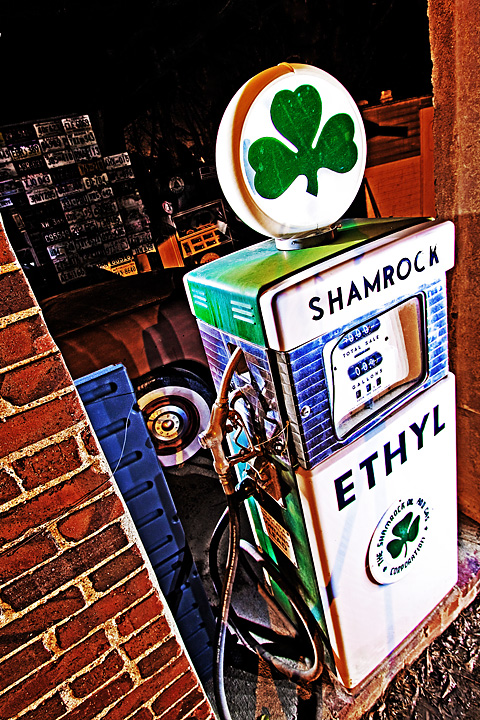 Image Data
File Name: 50D_11310
Model: Canon EOS 50D
Lens: Canon EF-S 10-22mm F/3.5-4.5 USM
Date: 02.17.09 6:34pm
Focal Length: 11mm (18mm)
Shutter: 6 s
F-Stop: F5.6
ISO: 100
Program: Manual
Metering Mode: Evaluative
Flash: Off
Focus Mode: Manual focus
Probably the most action this pump has seen in some time. I hung around this old mock-station for a bit over an hour, noticeably drawing a some of attention from the locals of this tiny town, some of which I could see peering their beady eyes out dusty windows.

Once the sun went down, lighting here was pretty terrible, provided only by a single nearby streetlamp that wanted to do nothing more than cast shadows of my tripod into the shots. So, the primary lighting here comes from several pops of my flash as I walked around the pump. A total of eight flashes at 1/16 power, I believe. Two from behind and to the left of the pump, two straight behind the round logo to make it appear to be lit up, and four from the front, camera right.
Comments (0)
Rich Almond 02.20.09 7:36am
This one is absolutely great!! So of the 50's/60's era and with the old Ford in the background even more so. The brick building adds to it's dimension. Is this the same pump your nozzle picture came from? ...
---
Leave a Comment