Night Launch :
February 04, 2009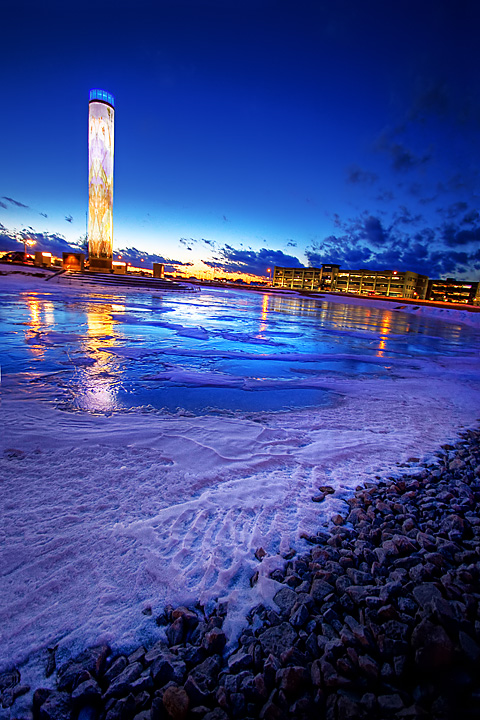 Image Data
File Name: 50D_09009
Model: Canon EOS 50D
Lens: Canon EF-S 10-22mm F/3.5-4.5 USM
Date: 02.02.09 6:03pm
Focal Length: 10mm (16mm)
Shutter: 1/15 s
F-Stop: F3.5
ISO: 400
Ex Bias: -2
Program: Aperture priority
Metering Mode: Evaluative
Flash: Off
Focus Mode: One shot AF
They call this 120 foot tall, 16 ft diameter, 5000 ft3 glass mosaic the Paragon Prairie Tower. The tower was completed in September 2007 and claims to be the nation's largest Italian glass mosaic. It's composed of 1.8 million individual glass tiles and was assembled over a period of 11 months. The Prairie Tower started out as just an office park icon, but was decided to be dedicated by R&R Realty and the Rupprecht family as a gift of art to Iowans.

The Paragon Tower depicts the Iowa prairie. Wildflowers, coneflowers, black?eyed susans, daisies and clovers amidst bluestem grass. Assembled on top of panels of pre?cast concrete using fragments of glass from Ravenna, Italy, the capitol of the Byzantine Empire.

Decided to swing past the tower on my way home from work Monday night. Wish I hadn't forgotten my tripod at home. It usually rides around in the backseat, since my camera always follows me everywhere. This was starting to push the limits of hand holding, shooting wide open on the 10-22mm. The 50D really exaggerates even the slightest bit of camera shake, and its high ISO capability unfortunately is not really an improvement over my 20D. I also prefer to be able to stop these shots down to at least F/8, as then point light sources will render with a star pattern rather than just a round dot, without the use of a special lens filter. Sometimes that is a trade off though, whether I want the longer shutter speed that will start to blur the moving clouds.
Comments (0)
Leave a Comment