Bust a Cap in Your Tol :
January 16, 2009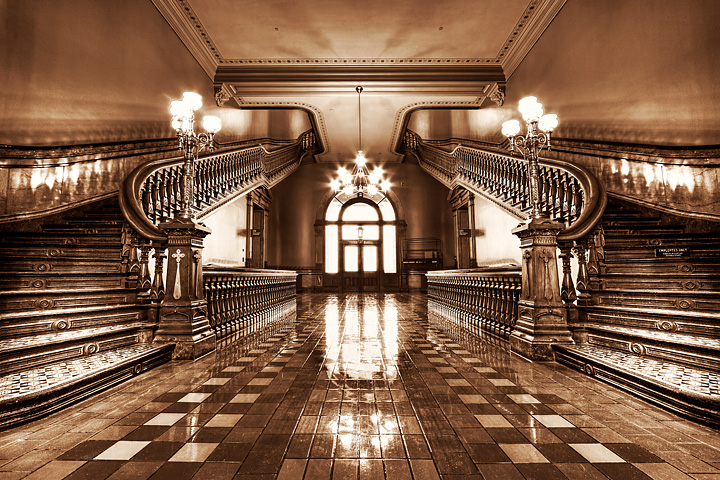 Image Data
File Name: 50D_03783
Model: Canon EOS 50D
Lens: Canon EF-S 10-22mm F/3.5-4.5 USM
Date: 12.26.08 3:54pm
Focal Length: 10mm (16mm)
Shutter: 4 s
F-Stop: F11
ISO: 100
Ex Bias: +1
Program: Aperture priority
Metering Mode: Evaluative
Flash: Off
Focus Mode: Manual focus
Another view from inside our lovely State Capitol. This is at the bottom of the stairs from the
Don't Stair
shot I posted a few days ago.
The Capitol is surrounded by state office buildings, and since the Legislature convenes in the dead of winter they've built tunnels linking many of the structures. Some of the routes aren't especially direct, though - getting from the Statehouse across the street to the Wallace Building is enough of a hike to meet most daily exercise regimens. There are offices beside some tunnels, raising questions about whether some state workers ever see the sun. To compensate, bright murals have been painted on many walls.
Comments (0)
jwen 01.16.09 7:06pm
the tunnels are for vampires.
there's a strict rule against sparkling in the capitol :P
---
ami 01.16.09 7:19pm
ahhahahha! j-wen = f-unny! :-D
---
Colin 01.20.09 7:27am
What do you think this is? A twilight zone? No!
---
Leave a Comment