Snowy Ripples :
February 07, 2008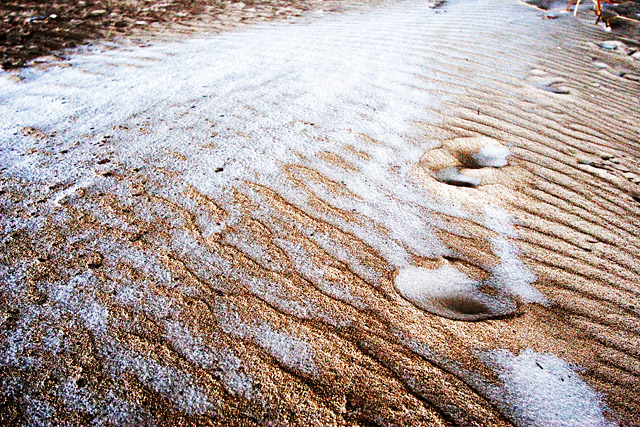 Image Data
File Name: 20D_14992
Model: Canon EOS 20D
Lens: Canon EF-S 10-22mm F/3.5-4.5 USM
Date: 02.06.08 5:06pm
Focal Length: 22mm (35mm)
Shutter: 1/13 s
F-Stop: F4.5
ISO: 1600
Ex Bias: +2/3
Program: Aperture priority
Metering Mode: Evaluative
Flash: Off
Focus Mode: One shot AF
I found this interesting combination of sand and snow that the wind whipped up under a bridge after our most recent snowstorm. We only received about 8 inches, but a town just 60 miles SE from here has received over 2 feet since Sunday! That is just plain nuts!

We've had it pretty easy the last few winters, so I guess we're due (no thanks to you, Farmer's Almanac). This season has definitely made me glad to have my 28" snow blowing beast. Seasonal average for Iowa is 33", but we've received an average of 39" across the state so far.
Comments (0)
Leave a Comment