Color Curl :
November 19, 2008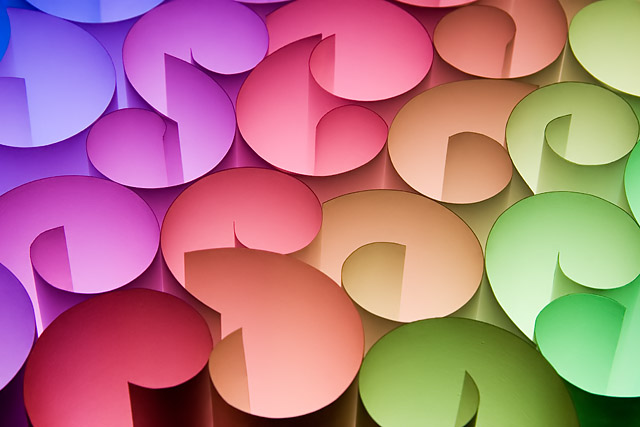 Image Data
File Name: 20D_68371
Model: Canon EOS 20D
Lens: Canon EF-S 17-85mm F4-F5.6 IS USM
Date: 11.19.08 1:43am
Focal Length: 75mm (120mm)
Shutter: 1 s
F-Stop: F11
ISO: 800
Ex Bias: +1
Program: Aperture priority
Metering Mode: Evaluative
Focus Mode: Manual focus
Paper curl can be caused by uniform wetting but non-uniform drying. This can be used to advantage with some types of curl control. If a uniformly wetted paper sheet is exposed to a heat source like a light bulb that dries one side more rapidly than the other, curl will initially be toward the light because fibers on that side of the paper shrink and pull the paper. This places the fibers on the non-dried side under compression, however, and they are forced to slip and buckle slightly. When the second side of the paper dries, it shrinks by the amount of the first side plus the additional caused by the compressive stresses. Its ultimate length is shorter than the first side causing curl to form toward the unheated side. Often the axis of curl flips 90 degrees as well. A general rule is that paper will curl toward the side dried last.
Comments (0)
Leave a Comment