Tensioned :
November 12, 2008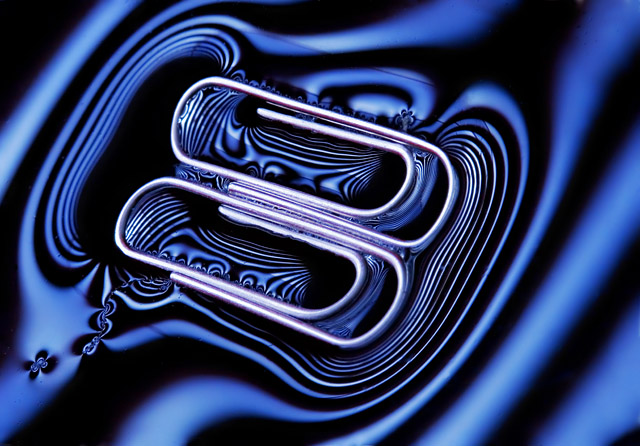 Image Data
File Name: 20D_67671
Model: Canon EOS 20D
Lens: Canon EF 100mm F/2.8 USM Macro
Date: 11.11.08 11:44pm
Focal Length: 100mm (160mm)
Shutter: 1/250 s
F-Stop: F16
ISO: 200
Program: Manual
Metering Mode: Evaluative
Flash: Off
Focus Mode: One shot AF
Ooooooh! Magic! Vooooodoooooooo.... Walking on water!

Surface tension causes many liquids to behave as an elastic sheet and allows insects, such as the water strider, to walk on water. It allows small objects, even metal, to float on the surface of water, and it is the cause of capillary action. Everyday observations of surface tension include the formation of water droplets on various surfaces and the concavity of the surface of water in a glass. In the former example, water sticks better to itself than to a particular surface, thus allowing it to form droplets. And, in the later example, water sticks strongly to the side of a glass, overcoming the downward force of gravity that causes the center of the surface to curve downward.


Comments (0)
Mark
11.12.08 8:35am
Yes... but what makes the paper clips stick together?
---
Eric Martin
11.12.08 9:14am
Very cool!
---
Stephen - Web
11.25.08 3:35am
That is an amazing picture! I love it!
---
Leave a Comment