Fence of Chain :
October 19, 2008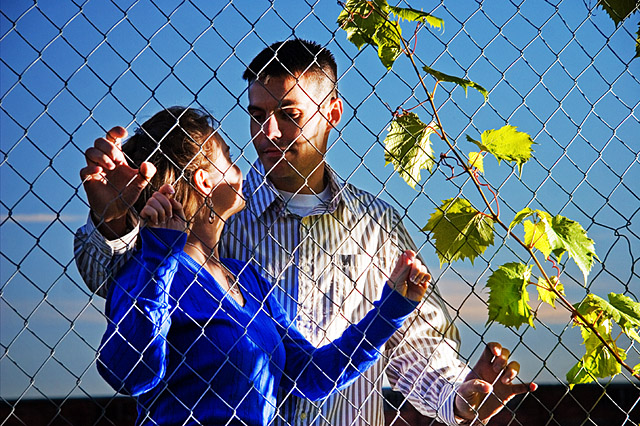 Image Data
File Name: 20D_64317
Model: Canon EOS 20D
Lens: Canon EF-S 17-85mm F4-F5.6 IS USM
Date: 10.18.08 6:17pm
Focal Length: 72mm (115mm)
Shutter: 1/250 s
F-Stop: F5.6
ISO: 200
Program: Manual
Metering Mode: Evaluative
Flash: Off
Focus Mode: One shot AF
Our friends Caroline & Jeremy came down yesterday for their engagement photo session. I'll be shooting their wedding next August.

Here's a shot you probably won't be seeing at grandma's house. Only got a few weird looks from passers by. But I suppose that's because only a few people passed by.
Comments (0)
Caroline 10.19.08 1:05pm
I finally get a pic in this thing!!! I love it!
Can't wait to see the others! :)

---
Tiny 10.21.08 8:34am
Won't be seeing at grandma's house? Weird looks? I'm confused... are they not wearing pants or something? Looks perfectly normal to me...
---
Jason Bradwell 10.21.08 9:03am
Grams has a fence phobia...
---
Hallie 10.30.08 4:04pm
grat pic jason, congrat caroline
---
Leave a Comment