Whatizit? :
October 15, 2008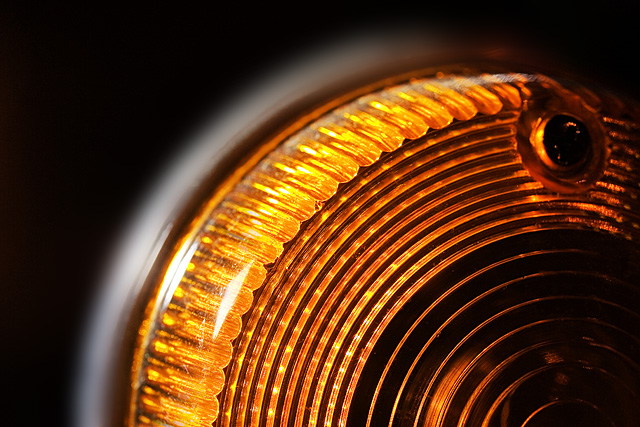 Image Data
File Name: 20D_63169
Model: Canon EOS 20D
Lens: Canon EF 100mm F/2.8 USM Macro
Date: 10.15.08 12:50am
Focal Length: 100mm (160mm)
Shutter: 2 s
F-Stop: F5.6
ISO: 200
Program: Manual
Metering Mode: Evaluative
Flash: Off
Focus Mode: Manual focus
Here's another challenge to correctly identify what exactly your're looking at in this here photo.

First one to figure it out gets one of yesterday's cookies.

Hint: The photo location may tip you off...
Comments (0)
Colin 10.15.08 2:00am
Plastic amber (rear) light casing. Too bulky looking to be recent production so I'm guessing left rear turn signal on your motorcycle.
---
ami 10.15.08 7:10am
Don't let him lie to you... I tried to find those cookies yesterday & I couldn't! I think he ate ALL of the cookies!!!
---
jwen 10.15.08 2:23pm
i would try to guess, but i was rather disturbed at what could be in my cookie. :/
so i think i'll just pass.
---
Jason Bradwell 10.15.08 9:20pm
No cookie for you. It is so obviously the front right turn signal. :P
---
Leave a Comment