Capitol Elegance :
January 27, 2008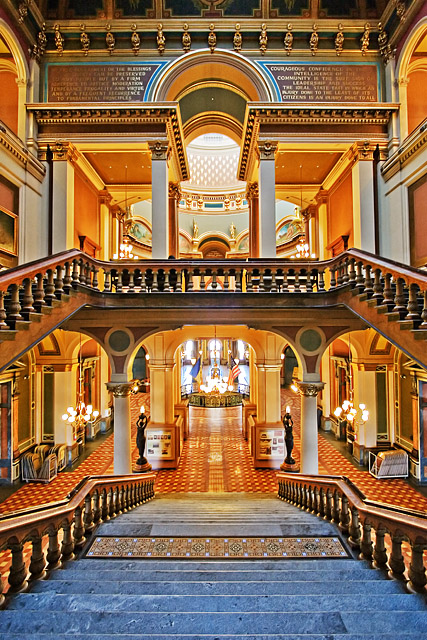 Image Data
File Name: 20D_14297
Model: Canon EOS 20D
Lens: Canon EF-S 10-22mm F/3.5-4.5 USM
Date: 01.26.08 12:12pm
Focal Length: 10mm (16mm)
Shutter: 1/30 s
F-Stop: F3.5
ISO: 400
Ex Bias: +1
Program: Aperture priority
Metering Mode: Evaluative
Flash: Off
Focus Mode: One shot AF
Ami and I went for a visit inside the Iowa State Capitol yesterday. I've been inside before, but this was the first time armed with my camera. Ami barely made it past the door security without them getting out the rubber gloves.
I ventured all the way up to the very tippy top of the dome. Was pretty sweet! Ami was too scerd (and said I wasn't really supposed to go up there, but hey, the door was unlocked!), so she went back down to wait. After all the dome pictures, I ended up picking a non-dome as my photo today.
Go figure.
Here's a
Bunch more photos from our Capitol adventure
.
Comments (0)
Mark Chandler 01.28.08 1:43pm
Thanks for the photo tour of the capitol- I've forgotten what a treasure we have here. I've not seen the top of the dome for probably 35 years or better- but I remember those stairs!
---
Laurie Bergren 01.28.08 8:53pm
Jason - we're just hanging out (on our separate computers - so romantic, aren't we?) looking at all your photos. They're great! So glad Ami mentioned it. Love to you both...
---
Diane 01.29.08 8:47am
Ami looks so charming in the State Capitol pictures! How come I don't see any pictures of your mother-in-law??
---
Mom 01.29.08 9:35pm
Great photos of the capitol, I love the beautiful detail and color!
---
Leave a Comment