Dallasmunch :
August 27, 2008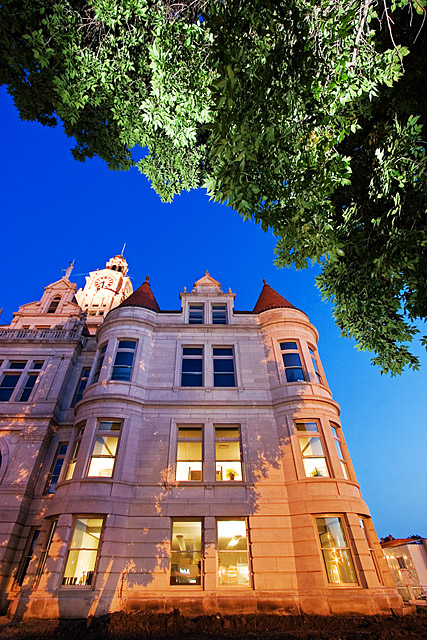 Image Data
File Name: 20D_49837
Model: Canon EOS 20D
Lens: Canon EF-S 10-22mm F/3.5-4.5 USM
Date: 08.26.08 8:34pm
Focal Length: 10mm (16mm)
Shutter: 15 s
F-Stop: F8
ISO: 200
Program: Aperture priority
Metering Mode: Partial
Flash: Off
Focus Mode: Manual focus
Dallas County was formed in 1846 and named after the US Vice President George Mifflin Dallas. The courthouse in Adel was built in 1902 after being designed by George Bird in the French Renaissance style. It is considered to be one of the best examples of civic architecture in the state of Iowa. The streets surrounding the courthouse square are paved with brick. The stores facing the structure have been renovated as a part of the town's participation in the National Trusts for Historic Preservation's Main Street Program. The courthouse grounds are being reworked, with new sidewalks currently being poured. It was still quite a mess there last night.

I'm sure I provided some entertainment value to the people watching from across the street as I ran around with my flash to light the tree & building in several burst during this 15 second exposure.
Comments (0)
Colin 08.27.08 8:37am
I know I was laughing at you, but that's not new.
---
Leave a Comment