Ghost Swing :
August 10, 2008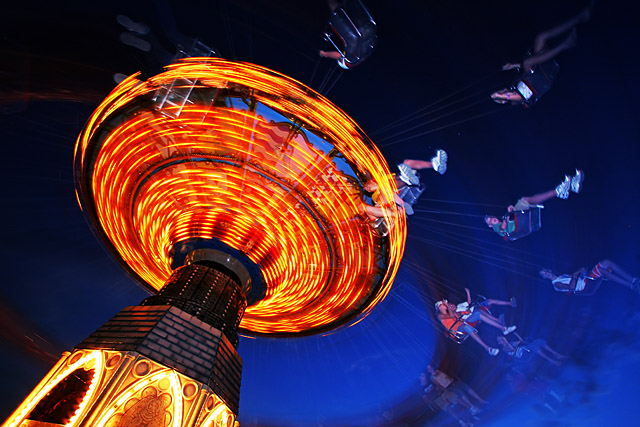 Image Data
File Name: 20D_43428
Model: Canon EOS 20D
Lens: Canon EF-S 10-22mm F/3.5-4.5 USM
Date: 08.09.08 8:54pm
Focal Length: 10mm (16mm)
Shutter: 1 s
F-Stop: F11
ISO: 200
Program: Manual
Metering Mode: Evaluative
Flash: On
Flash Bias: -.33 EV
Flash Details: External flash, E-TTL
Focus Mode: Manual focus
The internationally-acclaimed Iowa State Fair is the single largest event in the state of Iowa and one of the oldest and largest agricultural and industrial expositions in the country. Annually attracting more than a million people from all over the world, the Iowa State Fair in Des Moines is Iowa's great celebration, a salute to the state's best in agriculture, industry, entertainment and achievement. It is the true heartbeat of the Midwest, unequaled and unduplicated.

The Iowa State Fair, the inspiration for the original novel "State Fair" by Iowan Phil Stong, three motion pictures and Rodgers and Hammerstein's Broadway musical, is without a doubt the country's most famous state fair. National media frequently rank the Fair as one of the top events in the country. In 2004, USA Weekend named the event the #2 choice for summer fun in America, topping New York City's Times Square, Cedar Point Amusement Park Resort in Ohio and Disneyland in California.
Comments (0)
Mark 08.14.08 1:15pm
Your shot is much better than the shot of this ride in today's Register...
---
Tani 08.22.08 7:34pm
Saw this in the Iowa group fair thread. I was surprised you stopped action of the riders wile blurring the ride lights. Very good work. I got a good blurred shot, and a good shot as they were slowing down that blurred yet showed the riders. Never thought t6o use the flash to stop action.
---
Leave a Comment