Hot Strippers :
June 20, 2008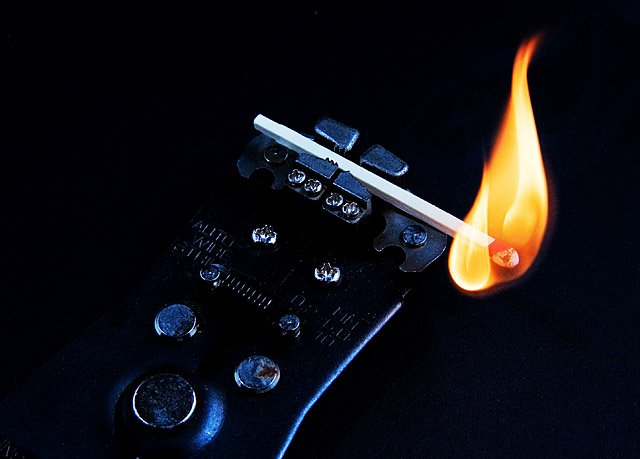 Image Data
File Name: 20D_29804
Model: Canon EOS 20D
Lens: Canon EF-S 17-85mm F4-F5.6 IS USM
Date: 06.20.08 3:22am
Focal Length: 56mm (90mm)
Shutter: 1/250 s
F-Stop: F11
ISO: 100
Program: Manual
Metering Mode: Evaluative
Flash: On
Flash Details: Manual
Focus Mode: Manual focus
Man, these [wire] strippers are HOT!

When engaged, an automatic wire stripper simultaneously grips the wire from one side and cuts and removes the insulation from the other. To use it, one simply has to place the wire in the jaws and squeeze the handle. While this device allows even a novice to strip most wires very quickly, it does have some drawbacks. An automatic wire stripper only works on wires in a certain size range. If a wire is too small it may be broken by the pulling force, and if a wire is too large it will not fit in the jaws.
Comments (0)
Leave a Comment