10Y :
June 15, 2008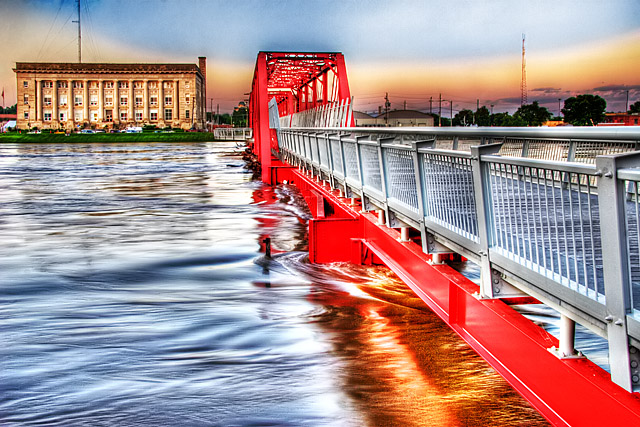 Image Data
File Name: 20D_29196
Model: Canon EOS 20D
Lens: Canon EF-S 17-85mm F4-F5.6 IS USM
Date: 06.14.08 8:46pm
Focal Length: 24mm (38mm)
Shutter: 1/2 s
F-Stop: F11
ISO: 100
Program: Aperture priority
Metering Mode: Evaluative
Flash: Off
Focus Mode: One shot AF
Yeah, so what if this is the same bridge you just saw a couple days ago. Different light, different side, different processing, different this, different that. Heck, most of you probably wouldn't even have noticed it was the same bridge I forced you to look at on Thursday.

As for the flood update. The river has dropped a few feet & the bridges downtown were opened back up this evening (even though the water is still higher than when they were closed). Went all around town today checkout the damage. Tons of areas are still majorly flooded. A levy broke early Saturday morning flooding a residential neighborhood & North High School.

And in non-flood related news. Today is Ami & I's Ten (10) year anniversary of being together. <3 We started dating before I began my Senior year of high school. And were married my Junior year of college.

AND also... Today is also Father's Day! Inaugurated in the early twentieth century to complement Mother's Day in celebrating fatherhood and male parenting, and to honor and commemorate fathers and forefathers.
Comments (0)
Mom 06.16.08 10:08pm
Congrats on your ten year anniversary!
---
Leave a Comment