Riverwalk Riverswim Bridge :
June 12, 2008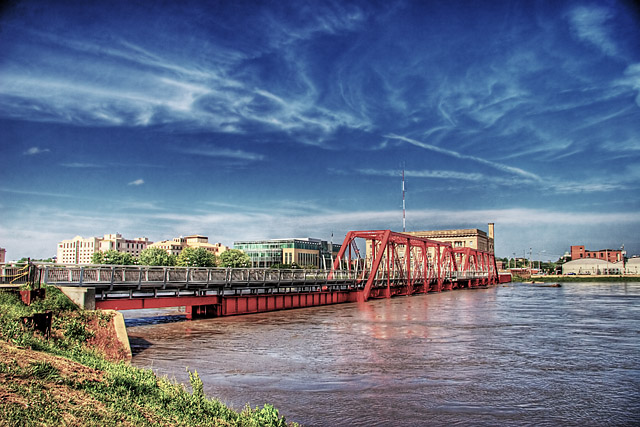 Image Data
File Name: 20D_28057
Model: Canon EOS 20D
Lens: Canon EF-S 17-85mm F4-F5.6 IS USM
Date: 06.11.08 4:48pm
Focal Length: 17mm (27mm)
Shutter: 1/640 s
F-Stop: F8
ISO: 200
Program: Aperture priority
Metering Mode: Evaluative
Flash: Off
Focus Mode: One shot AF
The Des Moines river went up nearly 4' in the last 24 hours, and is still climbing. As I write this, a crazy storm is about to move through. A storm that already generated a tornado that ripped through a boy scout camp, killing at least 4, injuring 40+.
This bridge here (An old RR bridge converted to a ped bridge as part of the ongoing Principal Riverwalk project) will be the first downtown bridge to go under. Water is already massaging its underbelly, with a forecasted crest another 3' higher by the weekend. Not accounting for the heavy rain now falling upstream...
Oh, BTW. Here's my full gallery of
The Floods of 2008
Comments (0)
ami 06.12.08 6:50am
I don't see Maui in this photo.... You know the rules!!
---
Colin 06.12.08 12:56pm
You want Jason to drown your cat? That's cruel even!
---
Leave a Comment