Happy Mother's Day! :
May 11, 2008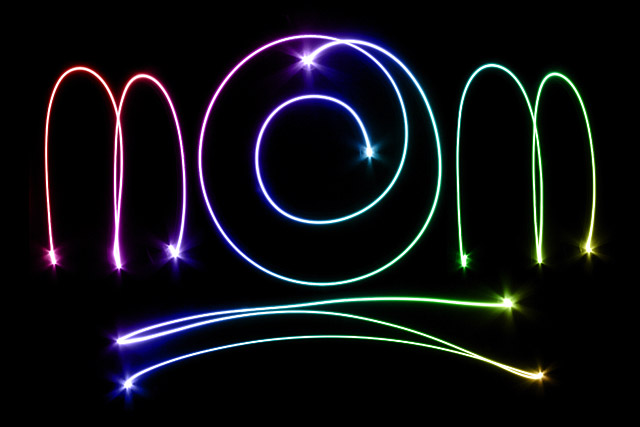 Image Data
File Name: 20D_23000
Model: Canon EOS 20D
Lens: Canon EF-S 17-85mm F4-F5.6 IS USM
Date: 05.10.08 9:53pm
Focal Length: 26mm (42mm)
Shutter: 10 s
F-Stop: F16
ISO: 100
Program: Manual
Metering Mode: Evaluative
Flash: Off
Focus Mode: Manual focus
Mother's Day is the result of a campaign by Anna Marie Jarvis, who, following the death of her mother on May 9, 1905, devoted her life to establishing Mother's Day as a national holiday. he first such Mother's Day was celebrated on May 10, 1908 and was declared officially by some states beginning in 1912. In 1914 President Woodrow Wilson declared the first national Mother's Day, as a day for American citizens to show the flag in honor of those mothers whose sons had died in war.

Nine years after the first official Mother's Day, commercialization of the US holiday became so rampant that Anna Jarvis herself became a major opponent of what the holiday had become. Mother's Day continues to be one of the most commercially successful US occasions. According to the National Restaurant Association, Mother's Day is now the most popular day of the year to dine out at a restaurant in the United States.

For Mother's Day 2008, Americans will spend approximately $2.6 billion on flowers, $1.53 billion on pampering giftsand another $68 million on greeting cards. Mother's Day will generate about 7.8% of the US jewelry industry's annual revenue in 2008. Americans are expected to spend close to $3.51 billion this year dining out for Mother's Day, with brunch and dinner being the most popular options.
Comments (0)
Perry
05.11.08 8:30pm
Our house spent $123.29 on flowers to help reach the $2.6 billion total.
---
Mom
05.11.08 10:50pm
Thanks, Jason!! How did you write it?
---
ami
05.12.08 4:50pm
Deb, I wrote it ;)
---
Jasey Bradwell
05.12.08 6:02pm
No, you didn't...
---
ami
05.12.08 10:13pm
sad for me!! :(
---
Mothers Day - Web
01.27.09 4:35am
Great Image, how you did it?
---
Happy Mothers Day - Web
04.15.09 7:01am
It looks great. How did you do it?
---
Leave a Comment