Dicentra spectabilis :
May 10, 2008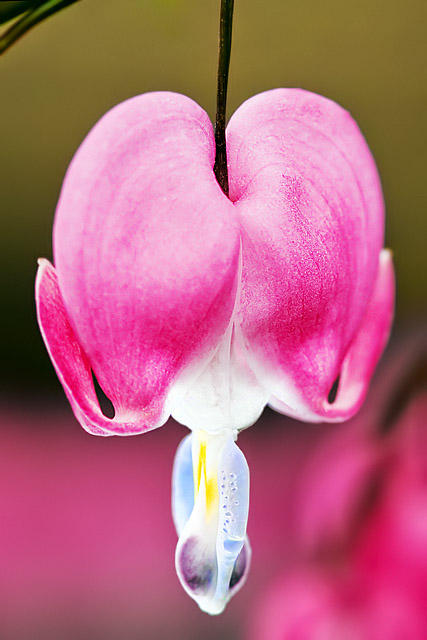 Image Data
File Name: 20D_22776
Model: Canon EOS 20D
Lens: Canon EF 100mm F/2.8 USM Macro
Date: 05.09.08 6:11pm
Focal Length: 100mm (160mm)
Shutter: 1/100 s
F-Stop: F4
ISO: 400
Ex Bias: +1/3
Program: Aperture priority
Metering Mode: Evaluative
Flash: On
Flash Details: External flash, E-TTL
Focus Mode: One shot AF
No idea where all these funky bleeding hearts that are blooming in the backyard came from. Have never seen them before. Maybe the neighbor lady is planting random stuff for us again so she doesn't have to look at as many weeds. This guy already fully opened up, so the heart-dripping-blood effect isn't 100% there. Looks more like a slimy puss ball instead...

Ami's thumbs are about as green as a school bus, so pretty much the only thing we have growing are an abundance of weeds and from the previous owners that are still somehow clinging to life after several years. She tried to plant a few things once. They're all dead.
Comments (0)
ami
05.10.08 6:53am
Hey! That's not fair! The weeds I planted are growing fantastically!! And I know the names of flowers... just not how to keep 'em alive!!
---
rick - Web
05.15.08 12:00pm
Beautiful image! ..and great composition as well. Did you add color to the bottom background? I don't know any about plants (sorry), but love the image.
---
Jason Bradwell
05.15.08 2:50pm
Nope, the pink color of the bottom background is just from another group of flowers a couple feet behind this guy. The green background is either grass or weeds. ;)
---
Susan
05.22.08 7:45pm
Hey, show a little respect for an heirloom perennial! I love Bleeding Hearts!
---
Leave a Comment