Cytokinesis :
May 06, 2008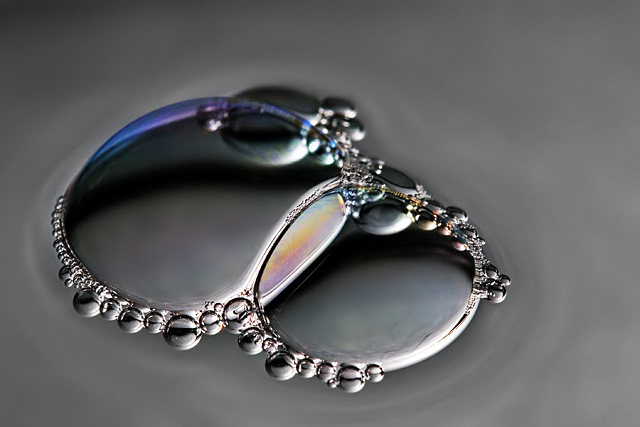 Image Data
File Name: 20D_22120
Model: Canon EOS 20D
Lens: Canon EF 100mm F/2.8 USM Macro
Date: 05.05.08 11:59pm
Focal Length: 100mm (160mm)
Shutter: 1/250 s
F-Stop: F11
ISO: 200
Program: Manual
Metering Mode: Evaluative
Flash: Off
Focus Mode: Manual focus
Cell division is a process by which a cell divides into two cells, called daughter cells. Cell division is usually a small segment of a larger cell cycle. For simple unicellular organisms such as the Amoeba, one cell division reproduces an entire organism. On a larger scale, cell division can create progeny from multicellular organisms, such as plants that grow from cuttings. Cell division also enables sexually reproducing organisms to develop from the one-celled zygote, which itself was produced by cell division from gametes. After growth, cell division allows for continual renewal and repair of the organism. A human's body experiences about 10,000 trillion cell divisions in a lifetime.

Cytokinesis is the process whereby the cytoplasm of a single cell is divided to spawn two daughter cells. It usually initiates during the late stages of mitosis, and sometimes meiosis, splitting a binucleate cell in two, to ensure that chromosome number is maintained from one generation to the next. In animal cells, one notable exception to the normal process of cytokinesis is oogenesis (the creation of an ovum in the ovarian follicle of the ovary), where the ovum takes almost all the cytoplasm and organelles, leaving very little for the resulting polar bodies, which then die. In plant cells, a dividing structure known as the cell plate forms across the centre of the cytoplasm and a new cell wall forms between the two daughter cells.
Comments (0)
Colin 05.06.08 9:07am
You do know that bubbles aren't...living, right? :)
---
Jasey Michelle 05.06.08 10:22am
Believe what you will. We'll see who's laughing when bubbles take over the world. Next Tuesday. 13:01:56 UTC.
---
ami bradwell 05.06.08 10:51am
umm..... colin?? haven't you seen the ads for scrubbing bubbles?? they have little faces!
---
Mark 05.06.08 1:08pm
What is it called when reverse cell division occurs, Mr. Wizard?
---
Jasey Michelle 05.06.08 10:17pm
Inbreeding? :P
---
Colin 05.07.08 6:45pm
By reverse division do you mean joining? As in fertilization?
---
Leave a Comment