The End is Near :
March 28, 2008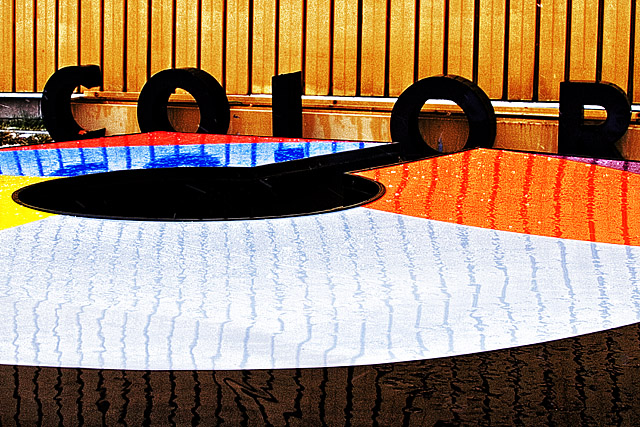 Image Data
File Name: 20D_18384
Model: Canon EOS 20D
Lens: Canon EF-S 17-85mm F4-F5.6 IS USM
Date: 03.27.08 3:07pm
Focal Length: 17mm (27mm)
Shutter: 1/100 s
F-Stop: F6.3
ISO: 200
Ex Bias: +1/3
Program: Aperture priority
Metering Mode: Evaluative
Flash: Off
Focus Mode: One shot AF
No turning back now, Rocky...
Signs Plus
(Plus what? Goats?) showed up unannounced at work this morning (in the middle of our crazy snow/sleet/rain/hail/thunder/lightning storm) to painfully rip the
CFX sign
from the side of our building. A
First Advantage
logo quickly filled the void, leaving exposed
the scars
left by its former namesake. They sure seem anxious to push us out. How much more space does a call-center really need?
Two more weeks until my departments final eviction. But just two more days until our no-dress-code heaven goes to hell. Interesting how the CFX shirts the production team must wear (Black? Really? Just black? They're all forced to wear black in a dusty environment for the remainder of their working life?) won't even be ordered until a week after they're supposed to be wearing them. But at least their new clothes are free. What about us office workers who'll be forced to buy new threads, all while our hopes of raises have been indefinitely delayed?
Comments (0)
Susan 03.28.08 1:07pm
They should have done this next Tuesday.
---
Brad 03.28.08 6:17pm
Sounds like your move is about complete. I know you are really not looking forward to working in the packed-in-like-rabid-dogs new office.
---
Mushroom 04.08.08 7:25am
Rumor has it that the hope of a raise wasn't delayed at all for some.
---
Leave a Comment