Capital Capitol :
March 05, 2008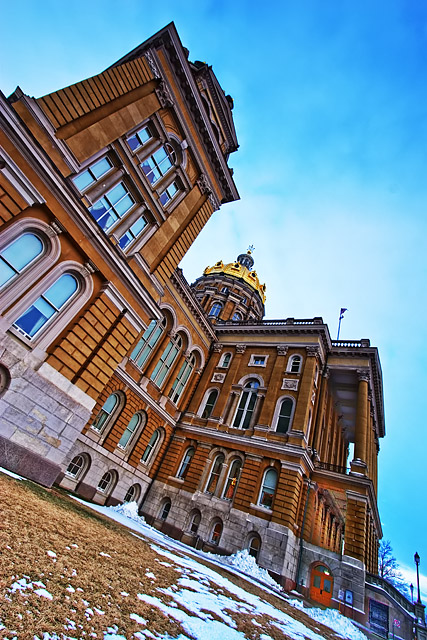 Image Data
File Name: 20D_16525
Model: Canon EOS 20D
Lens: Canon EF-S 10-22mm F/3.5-4.5 USM
Date: 03.04.08 5:44pm
Focal Length: 10mm (16mm)
Shutter: 1/60 s
F-Stop: F8
ISO: 200
Program: Aperture priority
Metering Mode: Evaluative
Flash: Off
Focus Mode: One shot AF
So, is it Capital, capital, Capitol, capitol, or capitle? (OK, I made up the last one :P ).

Capitol is the building where state legislature meets, or the group of buildings where government is carried out. It is always capitalized when referring to the building in DC where Congress meets.

Capital, aside from an uppercase letter and a stock of accumulated goods, refers to the city serving as the seat of government.

But of course, like everything in the English language, there are exceptions. Such as place names alluding to capitol buildings in some way or other, like "Capitol Hill" in DC, Denver, or Seattle.

So in summary, capitol is the building, capital is the city. This photo shows the Iowa State capitol building in Des Moines, the capital city of Iowa.

Really not all so confusing, is it!?
Now just try figuring out when to use lay vs lie...
Comments (0)
Leave a Comment