Elevation :
July 25, 2009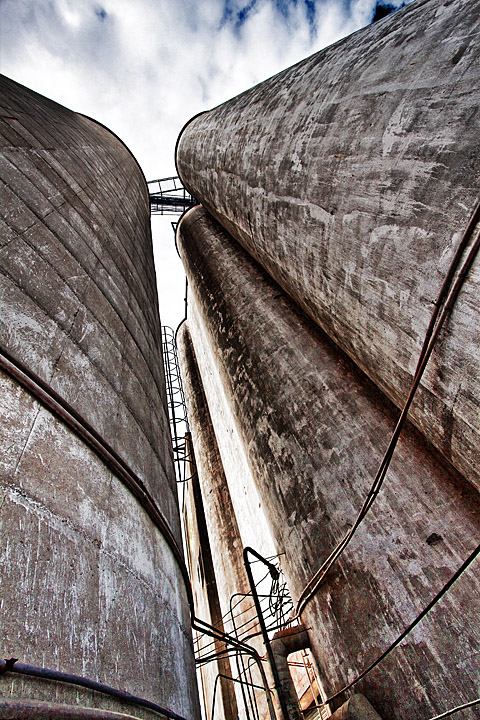 Image Data
File Name: 50D_49766
Model: Canon EOS 50D
Lens: Canon EF-S 10-22mm F/3.5-4.5 USM
Date: 07.18.09 6:18pm
Focal Length: 10mm (16mm)
Shutter: 1/320 s
F-Stop: F8
ISO: 100
Ex Bias: -1
Program: Aperture priority
Metering Mode: Evaluative
Flash: Off
Focus Mode: One shot AF
Grain elevators were invented in 1842 in Buffalo, New York, by Joseph Dart, who first developed a steam-powered mechanism, called a marine leg, for scooping grain out of the hulls of ships directly into storage silos. Older grain elevators and bins often were constructed of framed or cribbed wood and were prone to fire. Grain elevator bins, tanks and silos are now usually constructed of steel or reinforced concrete. Bucket elevators are used to lift grain to a distributor or consignor where it flows by gravity through spouts or conveyors and into one of a number of bins, silos or tanks in a facility. When desired, the elevator's silos, bins and tanks are then emptied by gravity flow, sweep augers and conveyors. Prior to the advent of the grain elevator, grain was handled in bags rather than in bulk.
Comments (0)
Eric Martin 07.27.09 8:39am
I love this one.
---
Leave a Comment