Stars & Streaks :
July 05, 2009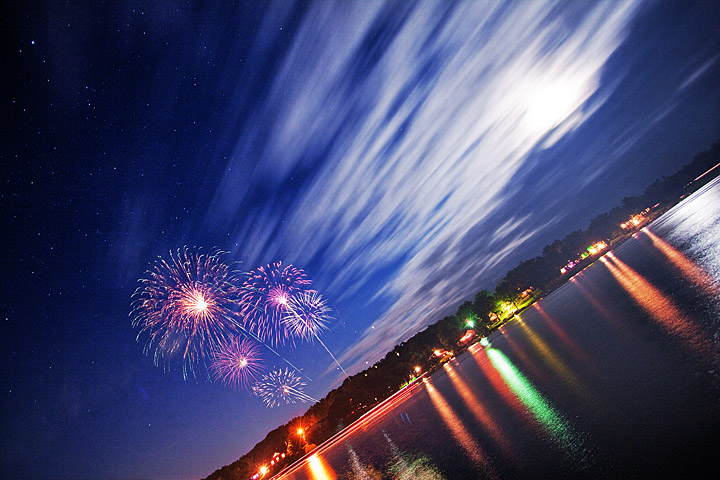 Image Data
File Name: 50D_46414
Model: Canon EOS 50D
Lens: Canon EF-S 10-22mm F/3.5-4.5 USM
Date: 07.04.09 10:42pm
Focal Length: 10mm (16mm)
Shutter: 30 s
F-Stop: F4
ISO: 200
Ex Bias: +2
Program: Aperture priority
Metering Mode: Evaluative
Flash: Off
Focus Mode: Manual focus
Not the most exciting fireworks display I've ever seen, but viewing it over the lake made it acceptable.

I actually turned down the opportunity to view the display from the boat, since that's not exactly the most stable platform for tripod shots. Ami went out & actually managed not to drown...
Comments (0)
ami 07.05.09 6:53am
glug....glug...glug....
---
Colin 07.05.09 11:24am
Dude, you turned down an opportunity for a unique perspective of fireworks. You sick?

If you didn't have the opportunity to turn down you know you'd try to find a way to get on the boat.
---
ami 07.05.09 11:54am
Hehhehe.... Colin said dude???
---
JAMIE 09.11.09 3:32pm
Wow I feel like I am there
---
Leave a Comment