/lib/law/ :
December 27, 2008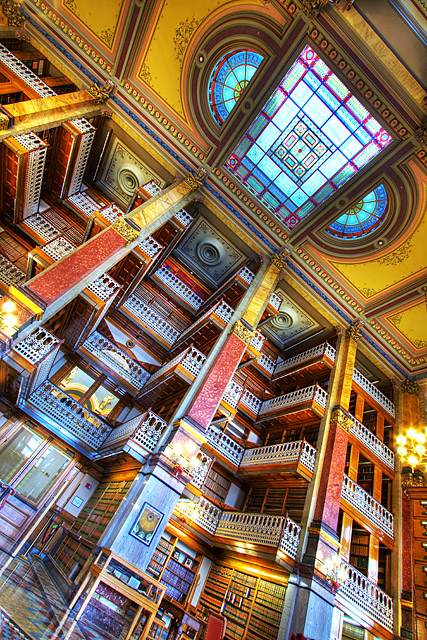 Image Data
File Name: 50D_03394
Model: Canon EOS 50D
Lens: Canon EF-S 10-22mm F/3.5-4.5 USM
Date: 12.26.08 1:46pm
Focal Length: 10mm (16mm)
Shutter: 1 s
F-Stop: F11
ISO: 100
Program: Aperture priority
Metering Mode: Evaluative
Flash: Off
Focus Mode: Manual focus
The Iowa State Law Library is located on the state capitol's second-floor. The law library features four ornamental balconies with spiraled wrought-iron railings and circular staircases at each end. The library houses a collection of approximately 200,000 volumes, and is one of the largest combined law libraries in the United States.

Original gaslights, now wired for electricity, have been retained throughout the room. The tile floor and stained-glass ceiling in the law library date back to 1884. As part of the capitol renovation project, restoration painters completed work on the ceiling in the law library in 1997.
Comments (0)
Leave a Comment